India Smashes Global Record For New COVID Cases As Hospital Oxygen Tanks Run Dry
Just yesterday, India reported more than 2,000 COVID-19-linked deaths in a single day, a new record for the world's second-most-populous country, which is struggling with a brutal resurgence of the virus that reportedly has crematoriums working overtime.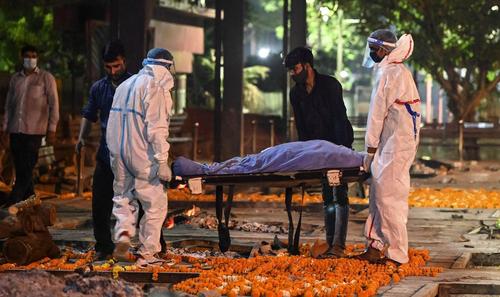 One day later, India has just reported a new disturbing record: According to the Associated Press, India reported a global record of more than 314,000 new infections on Thursday, sending more Indians scrambling for medical care as the country's health-care system struggles with a critical shortage of hospital beds and oxygen.
Deaths also increased by a record 2,104 (a record for India, though still far short of the record daily death numbers from the US and Brazil).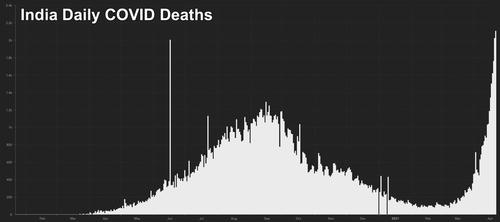 Source: Johns Hopkins
The 314,835 new cases added in the past 24 hours raise India's total past 15.9 million cases since the start of the pandemic, the second-highest total in the world next to the US. India has nearly 1.4 billion people.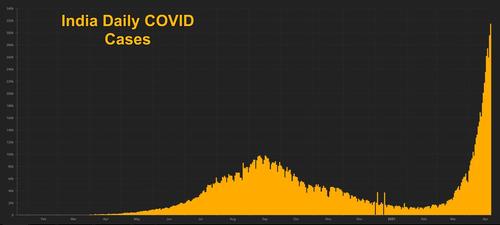 On Wednesday, the New Delhi High Court ordered the government to divert oxygen from industrial use to hospitals to save lives. And the government of PM Narendra Modi is rushing oxygen tankers to replenish supplies to hospitals.
"You can't have people die because there is no oxygen. Beg, borrow or steal, it is a national emergency," the judges said responding to a petition by a New Delhi hospital seeking its intervention.
During a televised address earlier this week, PM Modi begged local leaders to avoid reviving lockdown measures unless it was truly a last resort. Rahul Gandhi, a senior leader of India's Congress Party, slammed Modi in a tweet, accusing his government of dropping the ball on COVID restrictions. "Modi govt has put us into a situation where a lockdown is going to come and now again we are going to go through the same – migrants going back, no money to the migrants. Modi govt has already broken their legs, now they are going to cut off their heads."
India's Health Minister Harsh Vardhan said on Thursday that "demand and supply is being monitored round the clock." He said in a tweet that to address the exponential spike in demand, the government has increased the quota of oxygen for the worst-hit seven states.
The AP reported that scenes of ambulances rushing from hospital to hospital, desperately trying to find beds for the sick and dying, have once again become common.
"I get numerous calls every day from patients desperate for a bed. The demand is far too much than the supply," said Dr. Sanjay Gururaj, a doctor at Bengaluru-based Shanti Hospital and Research Center.

"I try to find beds for patients every day, and it's been incredibly frustrating to not be able to help them. In the last week, three patients of mine have died at home because they were unable to get beds. As a doctor, it's an awful feeling," Gururaj said.
India has launched a vaccination drive but only a tiny fraction of the population has had the shots. While the country's Serum Institute has been lauded as a key cog in the global vaccine rollout, the country this week announced that it would halt vaccine exports for at least two months. Authorities have announced that vaccines will be available to anyone over the age of 18 from May 1 but India won't have enough shots for the 600 million people who will become eligible, experts say, according to NBC News.
Some experts say new, more infectious virus variants, in particular a "double mutant" variant that originated in India, are largely responsible for the spike in cases but many also blame the politicians. But others blamed Modi and his government for getting "complacent".
"The second wave is a consequence of complacency and mixing and mass gatherings. You don't need a variant to explain the second wave," said Ramanan Laxminarayan of the Center for Disease Dynamics, Economics and Policy in New Delhi.
Epidemiologists have slammed Modi's government for holding packed political rallies for local elections and allowing a Hindu festival at which millions gathered.
Tyler Durden
Thu, 04/22/2021 – 07:06