Watch: Powerful Blast Rocks Latin America's Largest Explosive-Grade Ammonium Nitrate Plant
A powerful explosion has rocked the Enaex acid plant, which is located south of Calama, Chile, on Friday afternoon, according to Chilean news Meganoticias. 
Enaex is the largest producer of explosive-grade ammonium nitrate in Latin America. The incident occurred within the acid plant where nitroglycerin is stored. 
At the moment, the official number of injured is unknown. The mayor of Calama, Daniel Agusto, told CNN Chile that the powerful explosion "was felt in almost the entire city" and even "traffic was cut off."
🔴 AHORA | Alcalde de Calama por explosión en planta Enaex: "Es un accidente de proporciones (…). Se trataría del material nitroglicerina". https://t.co/E6QIJgKdbt pic.twitter.com/c9uyjdqoex

— CNN Chile (@CNNChile) April 16, 2021
'"There are about 25 injured who are being transferred to the Carlos Cisternas y del Cobre Hospital. Various gravity. The explosion was felt throughout Calama. It destroyed the Enaex acid plant. That plant that works with explosives is three kilometers from the houses in the city," according to one Twitter user who also posted a stunning picture of the explosion.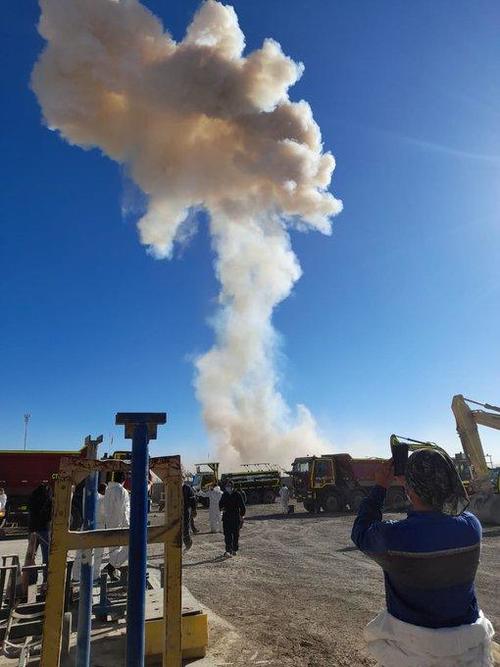 Here's a video of the explosion sending a large column of smoke into the atmosphere. 
¡PRECAUCIÓN! #Calama (16:57 hrs) Información preliminar de bomberos indican que la explosión fue en la planta de ácido de la empresa Enaex. Hacemos el llamado a los pobladores a no acercarse al sector del accidente. Noticia en desarrollo. pic.twitter.com/YelDcLACy0

— TransporteInforma Región de Antofagasta (@TTIAntofagasta) April 16, 2021
A video of the explosion as it was happening. 
— MacaJaDina (@dina_maca) April 16, 2021
Video from within the plant. 
Fuerte explosión hace un momento se sintió en la ciudad de #Calama. Información preliminar indican que esta se produjo en planta de ácido de ENAEX Calama. Noticia en desarrollo. Se remeció toda la casa, es de esperar que no hayan personas heridas. 🙏 pic.twitter.com/lutgXDF2hD

— 🌸Ángel💜 (@angelbened) April 16, 2021
Another view of the explosion. 
Explosión en sector enaex #Calama. pic.twitter.com/MOw2958RcN

— Concejal Cristian Flores XY 328 (@titan_flores) April 16, 2021
So does this mean Latin America's largest producer of explosive-grade ammonium nitrate is offline?  
Tyler Durden
Fri, 04/16/2021 – 18:26