UMich Sentiment Disappoints In April, Inflation Expectations Spike To 9-Year High
Despite stimmy checks and soaring stocks and vaccination successes and COVID case collapse, preliminary April data from UMich sentiment survey fell short of expectations.
While the headline print rose from 84.9 to 86.5 (pandemic highs), it fell far short of the 89.0 expectation. Additionally, while current conditions jumped from 93.0 to 97.2, the expectations (hope) index was flat at 79.7…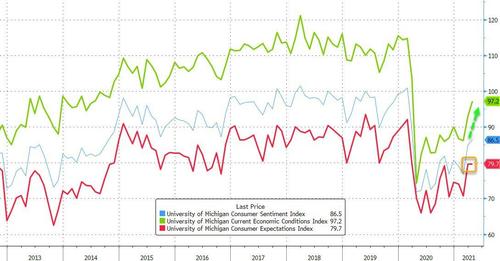 Source: Bloomberg
Perhaps more importantly, half of all consumers expected declines in unemployment, the highest level ever recorded.
Buying conditions for houses and home appliances slipped as car-buying-hopes rose…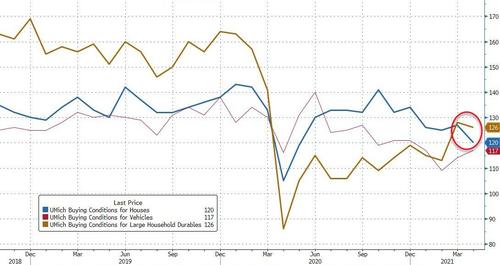 Source: Bloomberg
When asked to explain their buying plans, references to high prices have receded and have been offset by greater confidence in their future job and income prospects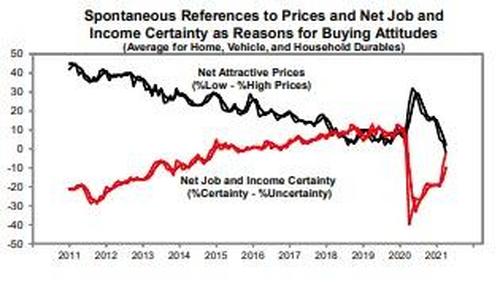 Republicans' sentiment rose for the 2nd straight month as Democrats' confidence soared…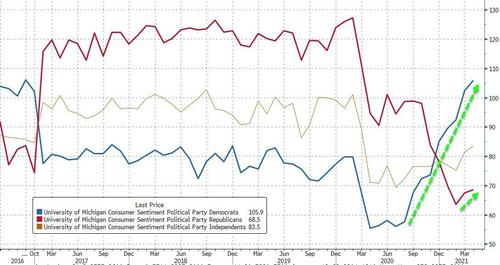 Source: Bloomberg
And finally, and perhaps most importantly, it would appear an inflationary sentiment is building among Americans…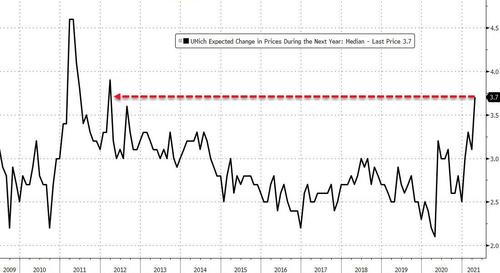 Source: Bloomberg
But don't worry, The Fed has 'tools', lots of 'tools'…
Tyler Durden
Fri, 04/16/2021 – 10:10