Trannies Rally To Longest Weekly Win-Streak In History, Bonds Best Week Since June
Dow Transports managed – by the smallest possible margin – to rise again this week…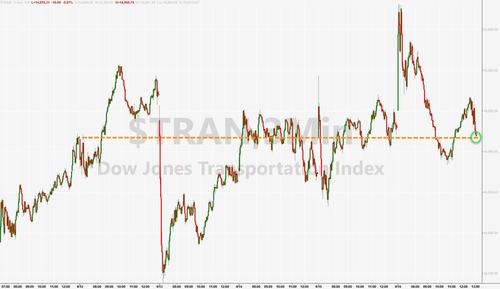 …equaling its all-time record 11th straight week…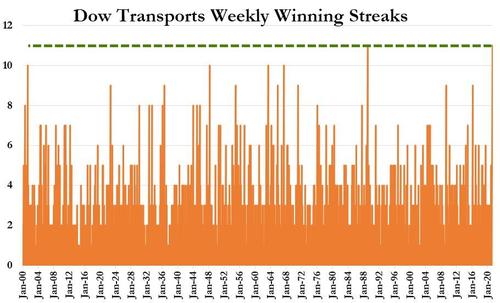 Since 1900, Dow Transports has only ever once before seen an 11-week winning streak – in February 1989…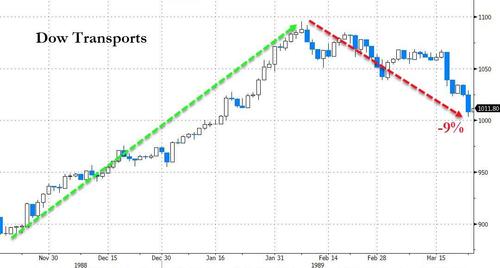 Source: Bloomberg
Some Trannies context…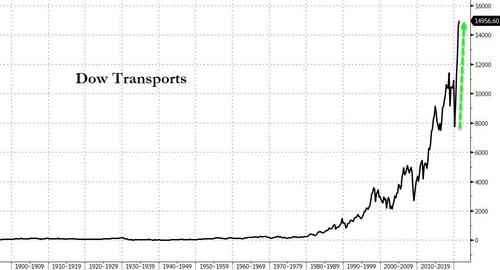 Source: Bloomberg
On the week, all the other majors were up around the same level (around 1.2-1.4%) despite lots of intra week variance until the last few minutes saw weakness. Nasdaq and S&P were the week's winners, Small Caps lagged…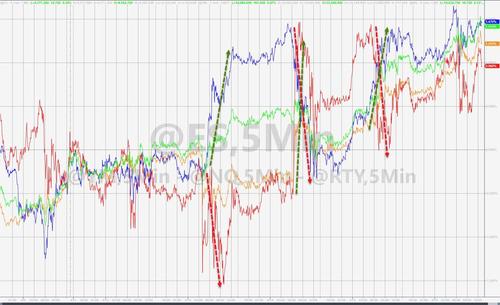 While the bond bear battering stole some headlines this week, it was Coinbase's listing that dominated… until it started to fade…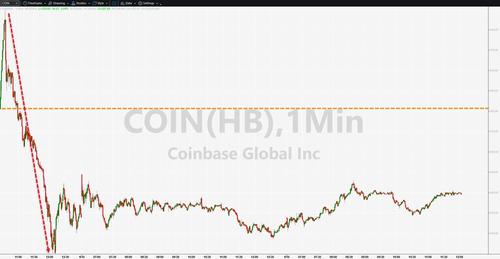 And at the same time, we note all the other Bitcoin proxies also slipped lower… with MSTR down over 16%
Source: Bloomberg
Banks were very mixed during their earnings week with WFC outperforming and MS lagging…
Source: Bloomberg
The rotation back to growth (relative to value) stalled this week…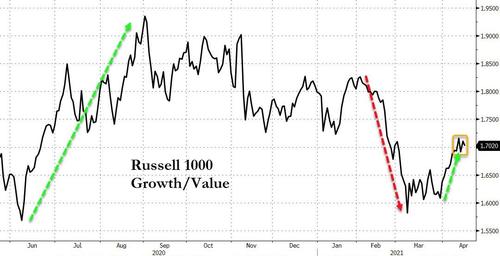 Source: Bloomberg
The 10Y yield dropped around 8bps this week (after falling 6bps last week), back to one-month lows…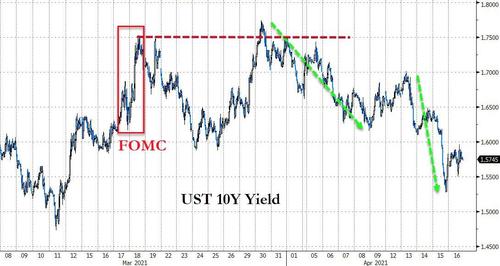 Source: Bloomberg
Some weakness today in bonds likely due to BofA's record issuance for a bank ($15 billion).
This was its biggest weekly drop in yields since June 2020…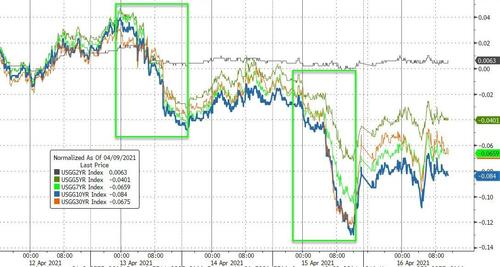 Source: Bloomberg
Real yields tumbled this week to 2-month lows, dragging gold higher…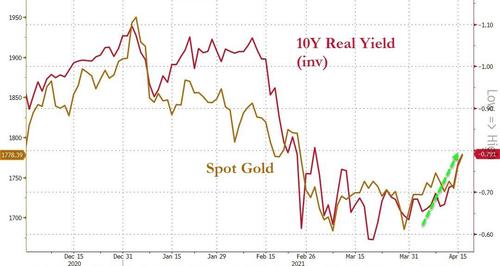 Source: Bloomberg
Dollar dumped for the second week in a row – biggest weekly drop since mid-December…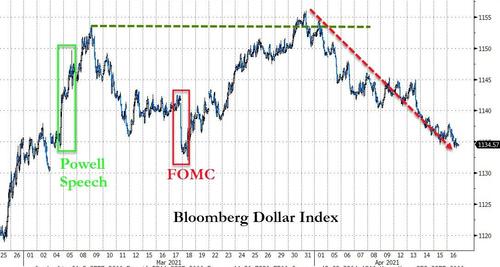 Source: Bloomberg
Cryptos were all higher this week as the Coinbase listing came to market…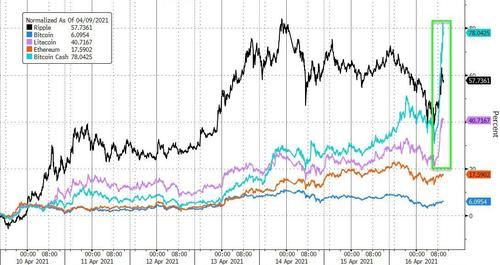 Source: Bloomberg
Bitcoin managed gains on the week (3rd in a row)…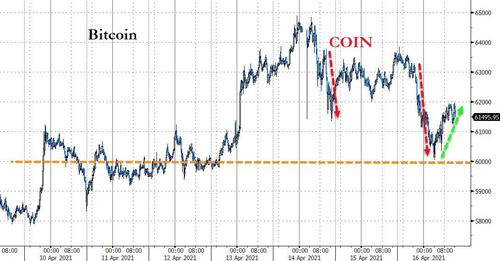 Source: Bloomberg
ETH is up for the 3rd week in a row, smashing to new record highs…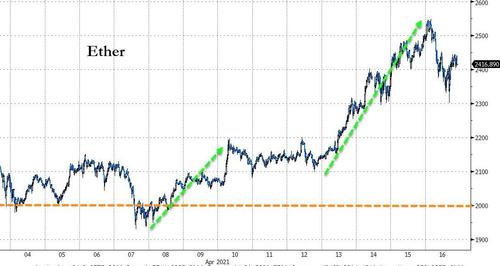 Source: Bloomberg
For the 3rd time in the last year, we are seeing a notable rotation from BTC to ETH…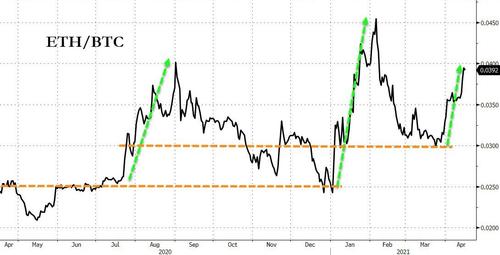 Source: Bloomberg
But all the crazy headlines go to DOGEcoin, which was utterly ridiculous this week…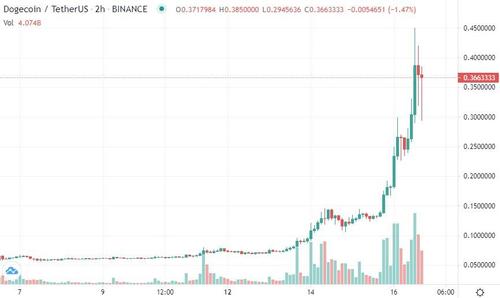 So far in 2021 #Bitcoin has lost 97% of its value verses #Dogecoin. The market has spoken. Dogecoin is eating Bitcoin. All the Bitcoin pumpers who claim Bitcoin is better than gold because its price has risen more than gold's must now concede that Dogecoin is better than Bitcoin.

— Peter Schiff (@PeterSchiff) April 16, 2021
Gold rallied 2% this week, its best week since mid-December, back to its highest in 2 months…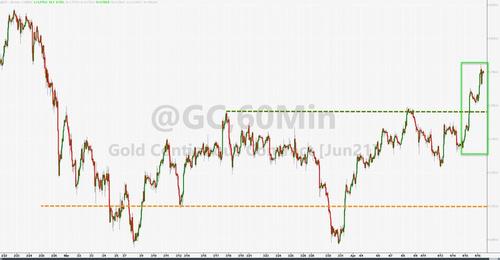 Gold also broke back above its 50DMA…
Source: Bloomberg
Interestingly the last few days have seen the recent trend of rotation from bitcoin to gold unwind…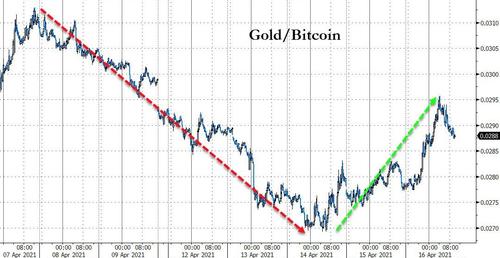 Source: Bloomberg
Finally, in case you wondered who was selling bonds and driving up yields in the last few months… it was hedge funds.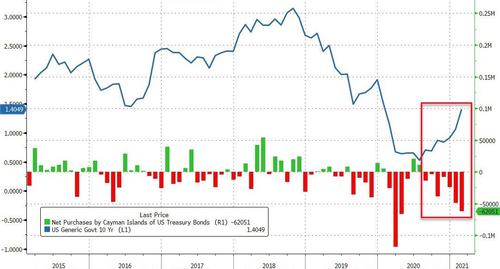 Source: Bloomberg
As Bloomberg reports, the world's biggest net sales of U.S. government debt so far in 2021 has been in the financial center of the Cayman Islands, well known as a domicile for leveraged accounts. In the past two months as "Cayman" investors dumped $62 billion of US. paper in February, after selling $49 billion the previous month.
But could that be over now? Two reasons suggest it's possible the bond bear market is over.
1) Nomura suggests that "the decline in the 10yr UST yield has been driven in part by shifts in supply and demand among speculative investors" and estimates that the two key trigger lines on the way down for 10yr UST yields lie at around 1.45% and 1.20%. According to the estimates output by the Japanese bank's model, CTAs' outstanding holdings of short positions in 10yr UST futures (TY) break even at around 1.45% on average.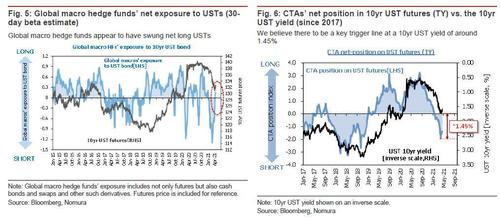 2) Foreign buyers have finally started to pile into USTreasuries…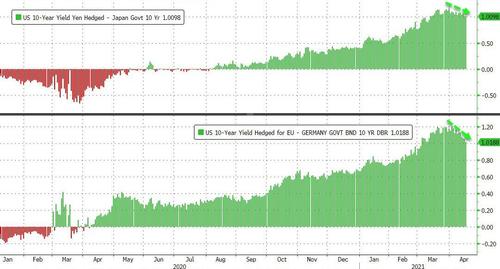 Source: Bloomberg
Having reached a 7-year-high in pickup versus domestic bonds, FX-hedged US Treasuries have been in big demand among European and Japanese investors since the start of Q2.
Tyler Durden
Fri, 04/16/2021 – 16:02