New York City's Super Rich Brace For Highest Income Tax Rate In The Country
It's almost like New York State is trying to drive people out of the state and to tax havens like Florida.
The richest of the rich in New York are now staring down the barrel of paying the highest personal income tax rate in the country, with Gov. Andrew Cuomo's proposed rate increases, also known as his "Millionaire's Tax". 
And while the tax will affect 123,000 New Yorkers across the state, the number of millionaires set to pay the highest rate in New York City dwindles to just about 500 households, according to a new review of the tax by MarketWatch. 
A total of 15,165 city taxpayers will be on their way to a tax hike under the new state tax. Of those, 529 are slated to pay the top rate, designated for those making more than $25 million per year. Among those names are famous New York citizens like Michael Bloomberg, Julia Koch and Leonard Lauder. Bloomberg has a net worth of $59 billion, while Koch is worth $46.4 billion and Lauder is worth $25.5 billion. 
The forthcoming state budget will generate $2.8 billion in new taxes from the super rich in the upcoming year and $3.3 billion in the next year.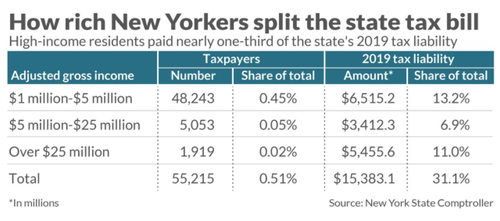 The changes raise the state's top rate to 9.65% from 8.82% for households that make over $1 million. Those making between $5 million and $25 million sport a 10.3% tax rate and people making over $25 million have a 10.9% rate.
Meanwhile, New York City already assesses a 3.88% top tax rate. The combined city and state rate for the three highest end tiers easily surpasses California's 13.3% top tax rate. And this is all, of course, on top of a 37% Federal tax rate for those making at least $518,400 per year. 
About 55,215 New York State residents make at least $1 million and their combined tax bill accounted for 31.1% of the state's 2019 tax liability. Marketwatch concluded:
Within that, 48,243 taxpayers make between $1 million and $5 million, paying an estimated 13.2% of the state's 2019 tax liability.
Another 5,053 taxpayers earn between $5 million and $25 million, and account for an estimated 6.9% of the liability.
At the highest end, 1,919 New York State residents make at least $25 million and paid for 11% of the 2019 tax liability, the comptroller data said.
Tyler Durden
Thu, 04/15/2021 – 22:10