Mass Casualty Incident At FedEx Facility In Indianapolis
Update (0141ET): Indianapolis Metropolitan Police Department (IMPD) spokesperson: "We have multiple people with injuries consistent with gunshot wounds. We have others that have been transported to various hospitals…"
Indianapolis Police spokesperson: "We have multiple people with injuries consistent with gunshot wounds. We have others that have been transported to various hospitals…"@mykalmphoto

— Breaking911 (@Breaking911) April 16, 2021
* * * 
Indianapolis News WISH-TV reports Indianapolis Metropolitan Police Department (IMPD) received reports of an active shooter around 11:10 pm local time Thursday at a FedEx facility in Indianapolis. 
The incident was reported at the FedEx facility in the 8900 block of Mirabel Road in Indianapolis, near Indianapolis International Airport.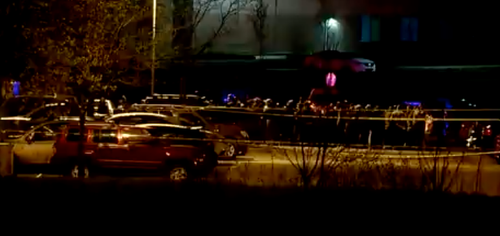 Dispatchers declared a "mass casualty, Level 1," which means the incident involved less than ten surviving victims. 
IMPD has yet to release information on how many people were shot or their conditions. There's also no information if the shooter is in custody. 
Here's the IMPD scanner audio of shots fired at the FedEx facility. The dispatcher said at least ten shots were fired from the entrance or inside the facility. One caller (from inside the facility's control room) told dispatchers she had no visual on the suspect but heard the shots. 
Indianapolis police scanner audio of shots fired at Fed Ex (starts at 26:00 min mark) https://t.co/jaHmgEKEHp pic.twitter.com/yIMg2NJ8pA

— SacKat (@sachibub10) April 16, 2021
A massive police presence is seen outside the FedEx facility. 
#Indianapolis
Live from the FedEx facility. https://t.co/fExV3LlMfS pic.twitter.com/ETdRwNmBzz

— Shane B. Murphy (@shanermurph) April 16, 2021
Local news Fox 59's Courtney Crown spoke with a family member of one of the victims who the gunman shot. 
"She called as I was asleep at home. She said there was a shooting in the FedEx. So we just drove from Brownsburg," said Parminder Singh, the uncle of one of the victims.
— Courtney Crown (@CrownJournalist) April 16, 2021
A witness describes the shooting spree to reporters. 
Indianapolis FedEx facility shooting witness interview. pic.twitter.com/NRbXSk5d57

— John Curtis (@Johnmcurtis) April 16, 2021
Crown interviewed the husband of a FedEx employee who was in the facility during the time of the incident.
This man is so relieved his wife is okay, she is still inside the FedEx at this time. She is texting him updates. pic.twitter.com/dMKroZKddE

— Courtney Crown (@CrownJournalist) April 16, 2021
Sacramento journalist Matthew Keys said, "police initially received a report of a person with a "machine gun" firing into parked cars at the Federal Express facility in Indianapolis, then entering the facility where the suspect continued shooting." 
NEW: Police initially receive a report of a person with a "machine gun" firing into parked cars at the Federal Express facility in Indianapolis, then entering the facility where the suspect continued shooting.

— Matthew Keys (@MatthewKeysLive) April 16, 2021
Keys said as many as five people were shot at the FedEx facility. He also said the "suspect involved in Federal Express mass shooting dead of a self-inflicted gunshot wound." 
*This story is developing… 
Tyler Durden
Fri, 04/16/2021 – 00:53