Amazon Takes On Ikea With New Home-Furniture Assembly Service
Media coverage of Amazon on Friday is focusing on outgoing CEO Jeff Bezos' latest letter to shareholders, where he promised "a better vision for our employees' success" and that Amazon would soon become "the best employer in the world" (language likely meant to assuage public concerns about Amazon drivers peeing in bottles in the wake of a major defeat for Amazon's labor-organizing movement).
But while the financial press pats Bezos on the back for virtue-signaling about the labor, Bloomberg reported Friday morning that on Amazon's plans to launch a premium furniture delivery-and-assembly service that could create problems for online furniture retailers like Wayfair – as well as more established "fast furniture" players like Ikea.
While Amazon's comms department officially denied the story (as is typical for coordinated leaks involving Amazon) the extremely specific details about the program suggest that the company is moving ahead with a limited rollout with designs on going nationwide in the US.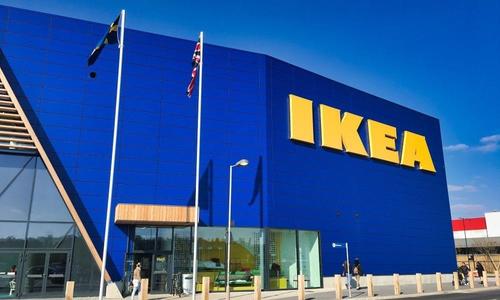 By allowing customers to not only buy furniture, but pay for somebody else to assemble it (a task that's often too much to handle for America's spoiled, "stressed out" millennials and Gen Z.
While Ikea has long dominated the "fast furniture" space worldwide with its cheap, stylish and portable furniture, the stress caused by navigating Ikea's enormous stores and assembling its products has long been a common gripe. What if buyers could not only order furniture, but schedule a time for its assembly, and pay for it all with just a few "taps" on the Amazon app?
They're going after Ikea now?
AMAZON IS EXPERIMENTING WITH FURNITURE ASSEMBLY SERVICE

— jsadinolfi (@jsadinolfi) April 16, 2021
AMAZON IS EXPERIMENTING WITH FURNITURE ASSEMBLY SERVICE

I kea what you did there.

— Ivan the K™ (@IvanTheK) April 16, 2021
According to Bloomberg, the delivery driver will also assemble furniture, or install appliances, everything from sofas and ottomans, to dishwashers. And if the customer isn't happy with the product at the time, the driver can initiate the return. Amazon plans to introduce the service in Northern Virginia before expanding it nationwide.
The new service requires drivers to unpack and assemble the items, remove the packaging and take the item back on the spot if the customer isn't satisfied, according to a presentation reviewed by Bloomberg. Previously, customers had to schedule a different contractor to come to their home at a different time to assemble the product, assuming the service was even offered in their location.

A training video shows the delivery of a bed and mattress set, as well as a sofa and ottoman, which are fairly simple to assemble. Drivers could be trained to install appliances like washing machines, dryers and dishwashers, according to one of the people, posing a specific threat to Home Depot Inc., Lowe's Cos Inc. and Best Buy Co., which also sell appliances with installation services.

The new offering simplifies the existing Amazon Home Services, which is available in a limited number of cities and lets customers hire contractors through the website to assemble furniture or install ceiling fans and wall-mounted televisions. The new service is designed to make delivery more convenient, cheaper and easier for Amazon to manage, one of the people said.

Amazon is planning to introduce the service in Virginia and two other markets, said one of the people, who requested anonymity to discuss an internal matter. The company currently offers scheduled delivery of big items — like bunk beds and treadmills — to a particular room in a shopper's home. But customers are often disappointed when delivery people drop off the purchases unassembled in big boxes.
And with orders of desks, office chairs and other home-office supplies surging thanks to the 'work-from-home' revolution ushered in by the pandemic, there's probably never been a better time for Amazon to make a move, as overwhelmed families struggling to balance work and school for their kids would probably pay big money to avoid a nightmarish trip to Ikea.
Demand for bigger items like desks and office chairs spiked during the pandemic as millions retreated to their homes. Shoppers also became more comfortable buying big-ticket items online that they previously preferred to purchase from a store where they can lie on beds or sit on sofas.

Online sales of furniture and housewares jumped 41% in 2020 to $36.1 billion, according to Coresight Research. Sales are expected continue to grow this year, albeit more slowly, to $37.3 billion. The surge in demand for big items created delivery logjams and weeks-long delays, creating an opportunity for Amazon to bring its reputation for quick delivery to the sale of bigger items like furniture.
Ikea is one of the world's largest privately held-conglomerates; it booked more than $45 billion in global revenue in 2019 with more than 375 stores in 30+ countries. There's clearly a massive TAM – total addressable market – in fast-furniture delivery, enough to entice Amazon, one of the few players in the world with the scale to compete at this level, to make the necessary investments.
Now, if only Amazon could find a way to compete with Ikea on the quality of its meatballs.
Tyler Durden
Fri, 04/16/2021 – 14:01