Urban Flight During Pandemic Made Rent Less Affordable Across US
Major cities like New York City and San Francisco experienced an exodus of residents, leaving the pandemic-plagued metro areas for more quiet areas in smaller towns, suburbs, and rural communities. As city dwellers fled, median rents in more affluent metro areas fell. In contrast, rents in less affluent areas surged, according to a new report via Zumper, an online apartment rental services company. 
Zumper explained when the virus-pandemic triggered socio-economic turmoil across major cities, many urbanites fled to "cheaper, less-urban, neighboring locations". These less affluent areas saw booming housing markets as demand surged, pushing up housing costs. Meanwhile, housing costs in urban areas plunged as urbanites exited. 
"In the rental market, the more expensive a city's pre-pandemic rent was, the more likely it was to decrease. Inversely, the cheaper a city was pre-pandemic, the more likely rents went up. This relationship can be visualized by comparing median rent prices in each city right before the pandemic (February 2020) to the growth in those median prices since the pandemic," Zumper said.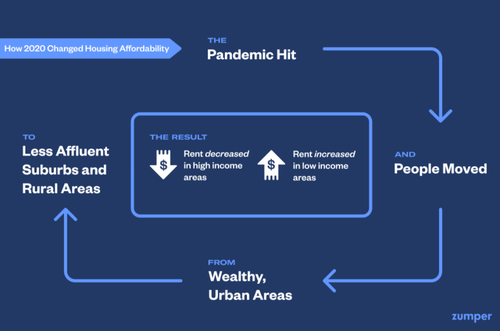 Zumper shows this relationship below in its National Rent Report, which tracks rents for US cities.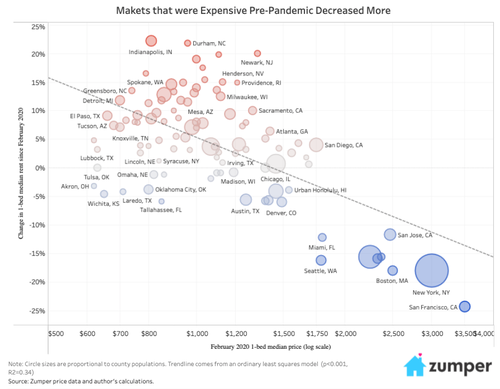 "This is, at its heart, a migration story," said Neil Gerstein, an analyst at Zumper and the author of the study, who Bloomberg quoted. "These prices are shifting because the pandemic caused a lot of people to move."
The chart below shows rents in many lower-income areas surged while rents in wealthier metro areas plunged.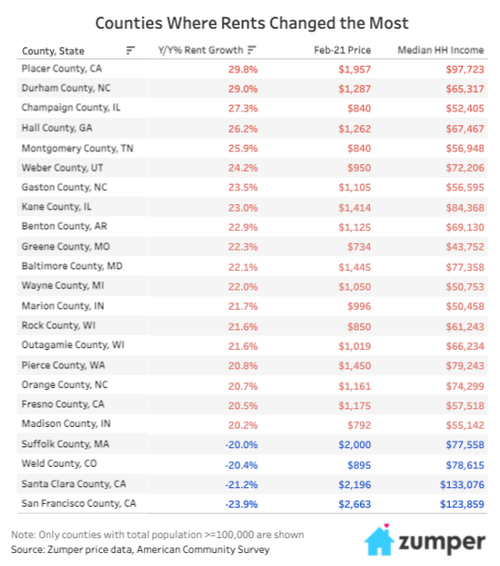 Here's another view of rents increasing in less affluent areas.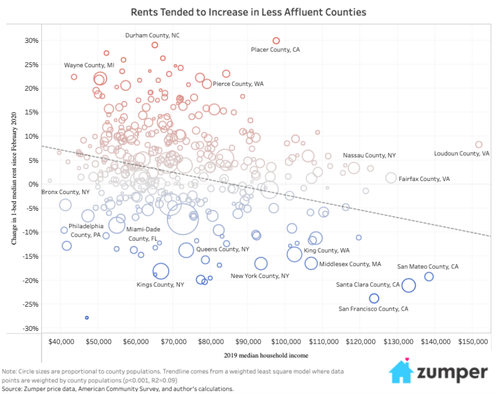 "Things will maybe get back to how they were pre-pandemic, but it will take a while," Gerstein said. "At least for the near-term, people who live in these counties have to live with these price shifts."
The next chart shows rents in urban areas were flat while rents in suburbs and rural areas increased. 
The takeaway here is clear: "rents grew substantially in suburban and rural regions while rents stagnated in urban areas. This largely also explains the inverse relationship between income and rents in 2020. Rural areas experienced substantially more rental growth than urban areas, but also are substantially less affluent," Zumper said.
The data is yet another example of how the virus pandemic deepened inequality over the last year. People who fled expensive large metro areas pushed up prices of rents and homes in small towns that were less affluent. 
For example, we noted how city dwellers from New York City fled to a tiny town called Poughkeepsie, in New York State's Hudson Valley. The town is small, with a population of about 30,000. Realtor.com shows homes in Poughkeepsieare are up 13.3% year-over-year.
It's becoming clear that one of the unintended consequences of urban flight is creating housing affordability issues in rural America. 
Tyler Durden
Wed, 04/14/2021 – 20:40