COIN Bounces Back As Cathie Wood 'Bought The Dip', Dumped Some Tesla
There was at least one dip-buyer in yesterday's disappointing post-open plunge in Coinbase (COIN).
Cathie Wood's Ark funds bought $246 million worth of Coinbase shares on the cryptocurrency exchange's Nasdaq debut on Wednesday and sold some Tesla shares.
The Ark Innovation ETF (ARKK) now holds 512,535 COIN shares, while the Ark Next Generation Internet ETF (ARKW) purchased 147,081 shares, and the Ark Fintech Innovation ETF (ARKF) bought 89,589.
Those headlines sparked a panic-bid this morning in pre-market trading, but sellers have immediately reappeared…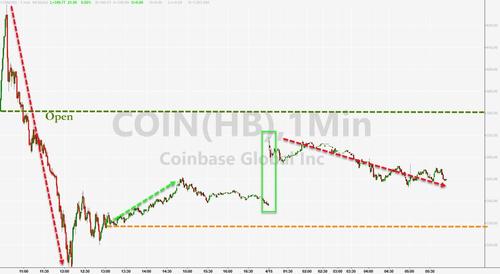 COIN remains well below its opening price however. Notably, one of Wood's funds sold a $4.4 million stake in New York Stock Exchange owner Intercontinental Exchange. Ark also sold Tesla shares worth about $178 million, though the stock is still by far their biggest bet by weightage on three of their major funds.
"What's interesting is their unwinding of some Tesla shares after their ludicrous call on Tesla," said Karim Moussalem, head of cash equity sales at Cantor Fitzgerald Europe in London.

"Selling some shares after that is a bit odd."
BTIG analyst Mark Palmer initiated coverage with a buy rating, setting a price target of $500 (based on 16x estimated FY24 net revenue of $8.2b) and touting the potential increase in cryptocurrency's total market capitalization beyond the current $2.1 trillion.
Coinbase can build on first-mover advantage by diversifying its revenue stream away from transaction fees (96% of 2020 net revenue) and leveraging its increasingly robust platform for institutional investors, Palmer writes

Views Coinbase as "safe harbor" among crypto exchanges, having never been hacked and adhered "rigorously" to regulatory compliance

Company held 11.3% of world's crypto assets as of March 31, up from 4.8% at year-end 2018; if, as expected, cryptocurrency's total market capitalization continues to grow then "upside could be immense"
But not everyone is as exuberant:
"Coinbase listing is a key milestone that arguably has created a lot of interest and hype, so it will be interesting to see how the entire cryptocurrency industry evolves over the coming months," said Steen Jakobsen, chief investment officer at Saxo Bank.
Meanwhile, in cryptocurrency-land, Ether reversed the losses during the COIN listing, pushing top a new high near $2500…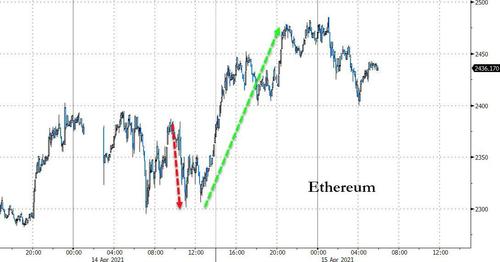 Source: Bloomberg
Finally, we note that Bank of America released a new survey that found that the majority of professional investors are not very optimistic about the world's largest cryptocurrency. Nearly 75% of respondents in the April Bank of America Fund Manager Survey said that they see Bitcoin (BTC) as a "bubble," CNBC reported.
Tyler Durden
Thu, 04/15/2021 – 09:03