Goldman Spots Something Odd In Today's Market Action
One week ago, we asked if – after such an auspicious start – the great "value rotation" had died again, pointing out that after impressive gains for value and small-cap stocks to start the year, the rotation from growth to value had fizzled about a month ago, with value stocks surging in the past two weeks…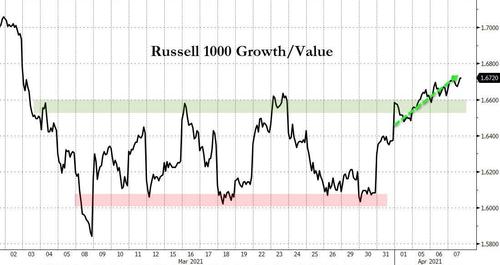 … As Russell 2000 relative to Nasdaq 100 hit the long-term downtrend and reversed sharply.
Interestingly, as we first pointed out a few days ago, while Tech was leading the index higher last week, the broader index is also quietly marching higher. Unlike in Q1 when tech strength meant weakness in the rest of the market, the S&P 500 was up 2% for the week "a particularly strong gain even in this era of strong stock gains" as Goldman put it. Also notable, the S&P 500 was achieving these gains the 'old fashioned' way, led by mega-cap Tech, with each of the FAAMG stocks up 4%-5%+ on the week. In fact, despite all of the talk of a rotation into pro-cyclicals this year, the average FAAMG stock is now up 12% vs a 10% rise for the S&P 500."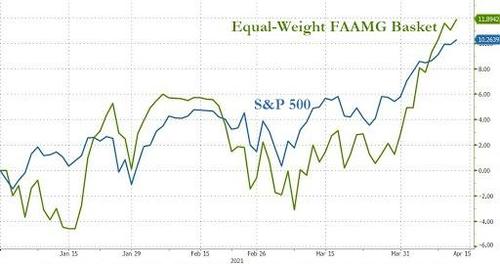 Which brings us to today's action where despite a solid bid for risk assets, underneath the surface the market was assuming a defensive posture led by mega-cap Tech and the bond proxies – Utilities and Real Estate (yields on 10-year Treasuries are back down to 1.61%). On the flip side, the procyclicals – Industrials and Financials – lagged
However, in a notable divergence from recent action, Goldman's Chris Hussey points out that the defensive tilt took place in an environment of relaxation, not anxiety. To wit, the VIX was down again today to 16.6 – after initially spiking to almost 18 on the J&J news – and nearing the 15 level that the VIX was camped out at during long stretches of the pre-pandemic/post-GFC era.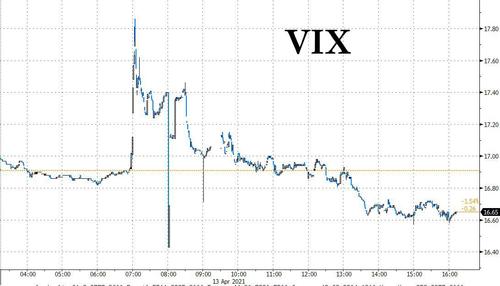 So, as Goldman concludes, "the "defensive" shift we are seeing today appears to be less about playing defense and more about the duration rotation." Looking ahead, the bank notes that as rates continue to fluctuate, the move into procyclicals may stall from time to time but the bank believes that overall, procyclicals still have more room to run unless of course the highest conviction trade on Wall Sreet now – the reflation super boom – fizzles, in which case all value/procyclical bets are off.
Tyler Durden
Tue, 04/13/2021 – 21:30