'Squad' Democrat Rep. Tlaib Demands "No More Policing", Declares Wright Shooting "Wasn't An Accident"
Michigan Rep. Rashida Tlaib wasted no time in declaring that the shooting of Daunte Wright was a racist shooting and no accident. The long advocate for defunding police has declared that she is done with "government funded murder." I have a column this morning in the Hill discussing how such comments can prejudice not only the case against any officer in the Wright case but the ongoing trial of former officer Derek Chauvin.
There is evidence suggesting that the shooting may have been accidental. In the videotape, the officer is heard yelling "taser, taser, taser" before he exclaims "Holy S**t, I just shot him." There remain serious questions about the stop and execution of the arrest. However, Tlaib clearly is not willing to wait for those facts to be established.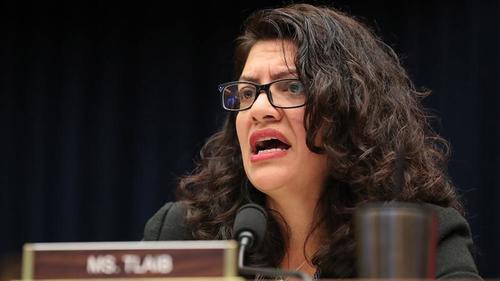 Rashida Tlaib declared on Twitter on Monday night that the death of Daunte Wright "wasn't an accident" and was "inherently [and] intentionally racist."
It wasn't an accident. Policing in our country is inherently & intentionally racist.

Daunte Wright was met with aggression & violence. I am done with those who condone government funded murder.

No more policing, incarceration, and militarization. It can't be reformed.

— Rashida Tlaib (@RashidaTlaib) April 12, 2021
There is evidence that the shooting may have been a  "confused weapon" case where an officer mistakingly grabs his service weapon rather than his taser.  Particularly given the riots and looting that is occurring in Minnesota, one would hope that government officials would caution against assuming facts and encouraging the public to wait for the results of the investigation.
The officer has been put on administrative leave.
Tlaib's call for "no more policing" will rekindle the defund the police debate to the chagrin of many who see the cause as hurting Democrats.
Following the death of George Floyd, Tlaib announced her support for legislation called the BREATHE Act. The bill would divest federal money from federal law enforcement entities, close federal detention centers, and create federal incentives to close state prisons.
*  *  *
[ZH: As one would imagine, Tlaib's "performative" tweet prompted a significant backlash from rational-thinking twitterati…]
Insane.

"No more policing"

It doesn't get more explicit than this that Democrats want to abolish the police. https://t.co/GPYF9qkpmg

— Ted Cruz (@tedcruz) April 13, 2021
"No more policing"?

Ok. All politicians who want to defund & eliminate the police should lead by example & start with their own security detail, personal neighborhoods, & gov't offices.

Give up your protection… https://t.co/Y94yDtJYjJ

— Bob Woodson (@BobWoodson) April 13, 2021
"No more policing."

The same people trying to take your guns away are openly calling for the police to be disbanded and for criminals to run free.

No rational person wants to live in a country where violent criminals roam the streets and innocent civilians are disarmed. https://t.co/Zz437FCb3I

— David Hookstead (@dhookstead) April 13, 2021
Democrats are so radical that not only do they want to destroy the 2nd Amendment to disarm us so we can't defend ourselves from criminals, they don't even want police to exist to defend us from criminals!!! https://t.co/AGQf6i0Xcb

— Donald Trump Jr. (@DonaldJTrumpJr) April 13, 2021
Meanwhile, fellow squad member Rep. Ilhan Omar, D-Minn., declared that "violence is a basic part of police interactions with communities of color. It must stop."
Joe Biden and Kamala Harris also both tweeted support Monday for the family of Duante Wright.
While the likes of Tlaib and her squad call for abolishing the police, the vast majority of black Americans are diametrically opposed to such action.
Tyler Durden
Tue, 04/13/2021 – 11:40