Magna Shares Spike, Company Reported To Be "Very Near" EV Contract With Apple
Shares of Canada-based mobility technology company and OEM Magna are spiking this morning on news that the company's joint venture with LG could be in line to produce Apple's electric vehicles. 
That joint venture  is "very near" to signing contracts with Apple, The Korea Times reported. Shares were up about 5% in the pre-market session.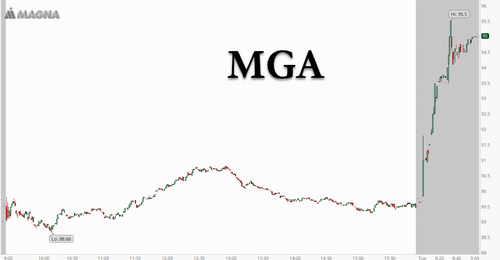 "LG Magna e-Powertrain is very near to signing contracts with Apple under which they could handle the initial volume production of Apple EVs. Contract details are still being discussed," the report says. Apple is expected to produce a limited number of first gen EVs to evaluate their marketability. 
"Because LG Group affiliates including LG Display, LG Chem, LG Energy Solution and LG Innotek are already included in Apple's parts supply chain, Apple doesn't have to worry about any supply chain issues. These LG affiliate are qualified to guarantee production yields and faster delivery of parts needed for Apple EVs," a source told the Korea Times.
"As the LG brand is not that strong in the global EV industry, it needs a pretty competitive reference to show off its transformation efforts. From that standpoint, LG's bet on the Apple EV is not that bad, and vice versa for Apple," a second source said.
A prototype is expected in early 2024. 
And of course, there's the icing on the cake:
Friendly reminder that Adam Jonas has been shitting on $MGA for a long time and has an underweight with a $61 target price. pic.twitter.com/NyXt2AED7P

— Keubiko (@Keubiko) April 13, 2021
In addition to Apple, should a contract be signed, Magna also sports names BMW, Honda, Hyundai, Volvo, Volkswagen and Toyota, among about 45 others, as OEM customers. To date, the stock has traded with a valuation consistent of other auto manufacturers…
Friendly reminder. $MGA has just a $26 billion market cap and trades at just 11x earnings, and 0.8x sales. https://t.co/OivIre11HT

— Quoth the Raven (@QTRResearch) April 13, 2021
But could further positioning as an EV name, and a potential contract with arguably the most popular company in the world change that? It looks like the market may think so.
Tyler Durden
Tue, 04/13/2021 – 10:10