Iran Hits Back After Natanz Sabotage: 'We'll Start 60% Uranium Enrichment On Wednesday'
After an 'accident' hit Iran's Natanz nuclear site on Sunday (or rather an Israeli sabotage attack – as is being widely acknowledged) causing a blackout precisely one day after new advanced centrifuges started up, the Islamic Republic appears completely undeterred. 
On Tuesday Tehran defiantly announced that it will by tomorrow start uranium enrichment to 60%. While this alone could provoke some level of preemptive military strike by Israel, the Iranians are further demonstrating their wrath over the sabotage incident by saying they will introduce 1,000 more centrifuges at Natanz as soon as repairs are made.
State-run PressTV broke the news Tuesday morning: "Iran's top negotiator tells Press TV from Vienna that Iran has informed the International Atomic Energy Agency (IAEA) of its plan to start 60-percent uranium enrichment as of Wednesday," it said. This will mark it's highest ever level of enrichment.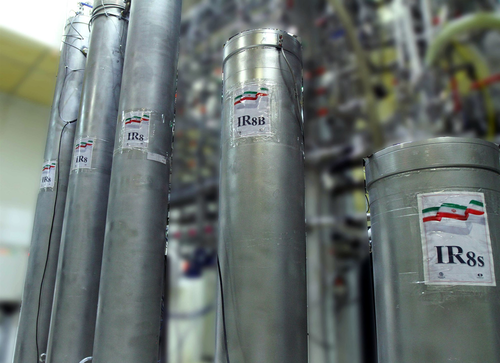 The Iranians in the new PressTV statement appear to have confirmed significant damage in the wake of Sunday's external attack on the facility, which many reports suggested was a cyberattack which resulted in an explosion:
Deputy Foreign Minister Abbas Araqchi said on Tuesday that not only will Iran soon replace the centrifuges that were damaged in a recent act of sabotage at Natanz, but will also install an additional 1000 centrifuges of 50 percent higher enrichment capacity at the nuclear facility.
And Axios notes that Araqchi made the announcement precisely as he arrived in Vienna on Tuesday for the second round of nuclear talks, ironically enough. 
Though on Monday Israel didn't openly confirm that it was behind Sunday's sabotage attack on Natanz, Prime Minister Netanyahu had this to say…
…[he] said on Monday that Iran had not given up efforts to obtain nuclear weapons and Israel would continue to "defend itself" against Tehran's aggression.

"In the Middle East, there is no threat more dangerous, serious and pressing than that posed by the fanatical regime in Iran," Netanyahu said, hours after the Islamic Republic blamed Israel for an attack on one of its nuclear facilities.

"Israel will continue to defend itself against Iran's aggression and terrorism."
He's long vowed that the Jewish state will "never" allow Iran access to nukes. It's further Israel's official position that the Obama-brokered 2015 nuclear deal puts the Iranian regime ever closer to that possibility, despite Iranian officials long assuring that their program is for peaceful energy purposes. 
Simultaneous to Tuesday's higher enrichment announcement, the Iranians are vowing to continue indirect talks with the US in Vienna, which are ongoing this week.
However, it appears the Iranians have announced a "delay" – which is very interesting given the timing…
Tasnim is now reporting that the Vienna talks, which were scheduled for Wednesday, have been postponed to Thursday. It says this is due to a member of the EU team contracting coronavirus. pic.twitter.com/NxXDV9F4Po

— Yaghoub Fazeli (@y_fazeli) April 13, 2021
At the same time a high-level Israel-US meeting is underway wherein the Israelis are actively trying to dissuade Washington from resurrecting the JCPOA. As Axios' Barak Ravid reports:
Led by national security adviser Jake Sullivan and his Israeli counterpart, Meir Ben-Shabbat, top national security and intelligence officials first met last month to share intelligence on Iran's nuclear program.
Between the lines: One of the main understandings that emerged was a mutual "no surprises" policy. But it's unclear whether the Natanz explosion or Israel's recent strikes on Iranian ships came as a surprise to the White House.
The Biden administration has distanced itself from both, creating the impression it disapproves of Israel's actions.
The US for its part has denied involvement in the sabotage attack on Natanz, with Jen Psaki saying the US "was not involved in any manner" in Sunday's incident.
Tyler Durden
Tue, 04/13/2021 – 14:00