Crypto About To Top Apple Market Cap As Bitcoin, Ethereum Surge To New Record Highs
Crypto markets reached a total market cap of almost $2.2 trillion overnight as bitcoin and ethereum spiked to new record highs (just shy of Apple's $2.203 trillion market cap).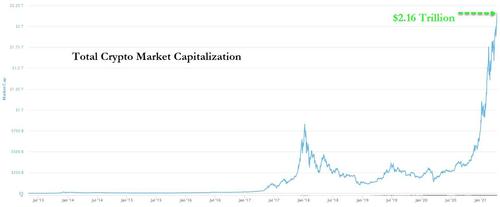 Ether (ETH) surged to a new all-time high on Tuesday, with the next major update in its ongoing development – dubbed "Berlin" – scheduled for Wednesday, April 14.
The coin's market capitalization exceeded $250 billion for the first time. For context, the market cap of Bitcoin (BTC) was at the same level just six months ago, in late October 2020.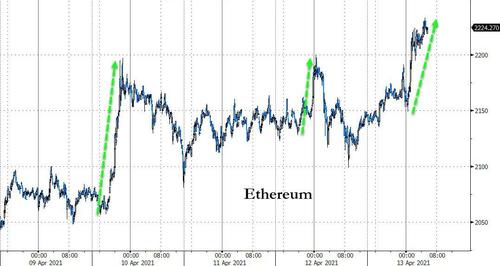 Source: Bloomberg
As CoinTelegraph reports, Ether's 1,328% growth over the past year persisted despite major concerns regarding the Ethereum network's transaction fees. In February, the average Ethereum transaction fee hit an all-time high of $38.21, according to data from Bitinfocharts, making Ether generally unsuitable as a transactional currency.
But investors apparently hold out some hope for a reprieve from Ethereum's unwieldy fees, particularly in the form of an upcoming network upgrade that will radically alter the way fees are paid. The "London" upgrade, scheduled for this summer, has drawn the ire of Ethereum miners, as it entails plans to burn some of the fees that would normally be accrued by mining rig operators.
Wednesday's Berlin upgrade is expected to be less impactful in the short term but will pave the way for London and will make four major changes to the network as it stands. A full technical breakdown can be found on the official release page, but a variety of changes will be made to the blockchain to reduce costs for certain transaction types. A new transaction envelope will also make it easier to package multiple transactions into a single transfer.
Bitcoin, not to be left behind, also surged higher to a new record high, topping $63,000 for the first time ever.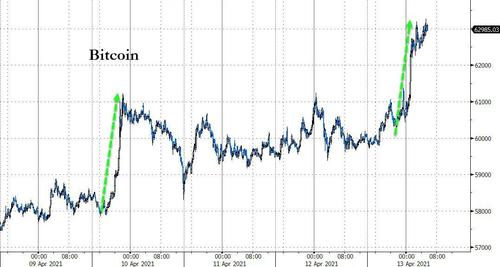 Source: Bloomberg
Bitcoin's gains were supported by reports that institutional fund manager Grayscale has partnered with New York-based magazine TIME to produce an educational video series on the subject of crypto assets, and will receive payment in Bitcoin.
More importantly, TIME does not intend to convert the Bitcoin it receives through the deal into fiat, and will hold the crypto asset on its balance sheet. No further details of the partnership have been revealed so far.
According to Bitcointreasuries.com, TIME will become the 33rd publicly traded company to hold Bitcoin on its balance sheet.

TIME joins the ranks of top U.S. companies Microstrategy – who have invested billions into BTC from August 2020, Square — who added 4,709 BTC to their treasury in October, and Tesla – which purchased $1.5 billion worth of BTC in January. Multinational investment corporation Blackrock also began dabbling in crypto during February, profiting more than $360,000 from a small long using Bitcoin futures.
Bitcoin continues to track its stock-to-flow model implied price trajectory…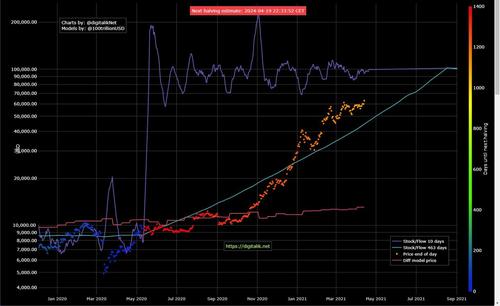 Meanwhile, the coins immediately behind Bitcoin and Ether in the market cap rankings – Binance Coin (BNB) and XRP – also hit new all-time highs in the past 24 hours.
Tyler Durden
Tue, 04/13/2021 – 09:15