Bond Yields Tumble After Spectacular 30Y Auction
One day after we got a two-fer of a solid 3Y and a mediocre 10Y auction, some rates traders were afraid that between today's (hot) CPI print and the flood of new issuance, today's 30Y auction would be ugly. It was anything but.
Moments ago the Treasury announced that it auctioned off the last coupon for the week when it sold $24 BN in ultra long dated paper in the form of a 29-year 10-month reopening. And boy was this in demand: the high yield of 2.320% was fractionally above the 2.295% high yield in March, but more notably, stopped through by a whopping 1.8bps through the When Issued 2.338%. This was the biggest stop through since December and a dramatic reversal from the last two tailing auctions.
The Bid to Cover of 2.446 was also a solid improvement from the 2.284 recorded last month and was above the six-auction average of 2.332.
The internal were just as impressive with Indirects taking down 61.0%, the highest since January if slightly below the 63.2% in March. And with Directs taking down 21.9%, the most since December 2014, Dealers were left holding 17.1% the lowest since January.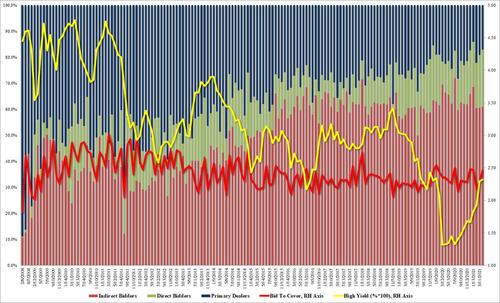 And since today's 30Y auction – arguably the best of 2021 – was a stark reversal to the ugly "whisper" scenario, yields tumbled, with the 10Y sliding over 2bps on the auction and the 30Y tumbling and reversing all of the recent pre-CPI jitters.
Tyler Durden
Tue, 04/13/2021 – 13:14