GameStop Shares Hold Losses After Reports Of CEO Replacement Search
In what is perhaps the largest shakeup since Ryan Cohen, the co-founder and former chief executive of online pet food company Chewy, joined its board in January, Reuters reports that GameStop is looking for a new chief executive to replace George Sherman as it pivots from being a brick-and-mortar video game retailer to an e-commerce firm.
Citing three people familiar with the matter, Reuters notes that GameStop's board is working with an executive headhunter on the CEO search.
The stock was down 10% early in and bounced very modestly on the CEO replacement headline…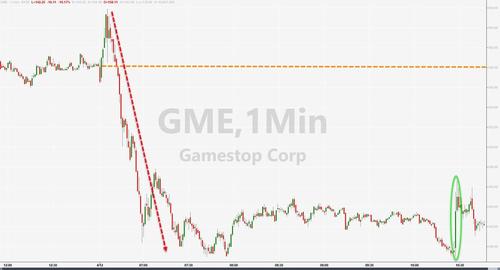 It's been a noisy few months since the chaos began in GME, but today's drop takes the stock back to the same level it was at on Jan 25th…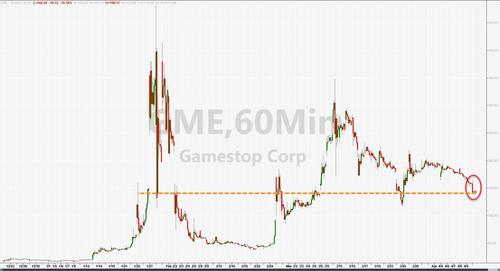 As a reminder, GameStop announced last week that the Chewy co-founder will become its chairman after the company's annual shareholder meeting, which is scheduled for June 9.
GameStop also said Thursday in a securities filing that other new board nominees include Larry Cheng, the first investor in Chewy, and Yang Xu, an executive at Kraft Heinz.
Quite a re-shuffle.
Tyler Durden
Mon, 04/12/2021 – 13:54