1.3 Million Clubhouse Users Data Leaked Online 
Just as the social media app Clubhouse is in talks to raise more funding with a mindblowing $4 billion valuation, it appears the social media platform has been the victim of a hack. 
According to Cyber News, a SQL database containing the personal data of 1.3 million users personal information was leaked onto a hacking forum.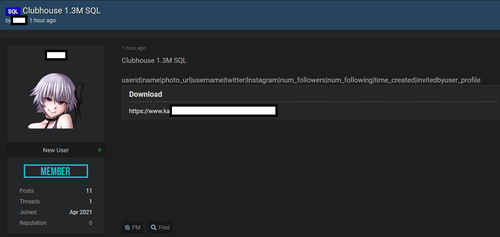 The upstart social media platform appears to have experienced a similar fate as Facebook and LinkedIn. They had user data scraped off their servers and were released on a popular hacker forum. 
"Particularly determined attackers can combine information found in the leaked SQL database with other data breaches in order to create detailed profiles of their potential victims. With such information in hand, they can stage much more convincing phishing and social engineering attacks or even commit identity theft against the people whose information has been exposed on the hacker forum," according to the report.
Clubhouse has yet to confirm the hack reported by Cyber News this weekend. The leaked database contained user records such as user IDs, names, photo URLs, usernames, other social media handles, and other personal information. 
Here's an example of the leaked data:

The good news is no deeply sensitive data was leaked, such as credit cards. However, with the already leaked data, cybercriminals can target users through phishing attacks. They can also use a brute-force attack, which is a tool for submitting many passwords or passphrases with the hope of eventually cracking the passport. 
Last week, information scraped from around 500 million LinkedIn user profiles is available on popular hacking websites. Earlier this month, 533 million Facebook users' data was leaked on a low-level hacking forum. 
It's unclear how the latest hack will affect investor participation in a funding round valuing the business at about $4 billion.
Tyler Durden
Sun, 04/11/2021 – 13:30