US Farmers Celebrate As Corn Exports Near Records 
Reuters reports US corn exports "have blown past nearly every benchmark" as China, the world's largest food and ag importer, appears to be ramping up purchases of US farm goods. What's mildly funny is how China has begun to purchase large amounts of farm goods from the US under the Biden administration. 
According to official US export data Wednesday, February's corn exports recorded 6.3 million tons. The amount topped "2008's record for the month by 17% and is the largest monthly volume since July 2018," said Reuters. 
A few months back, December's corn exports exploded to 13-year highs. The first-quarter outlook already suggests record volumes. 
Reuters' projections indicate weekly export data for March could reach an all-time high, possibly topping north of 9 million tons. The largest-ever export volume for a given month was 7.75 tons in May 2018.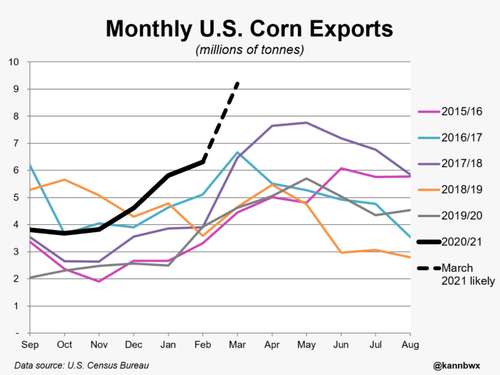 China has primarily driven strong US corn exports. By Mar. 25, Beijing booked around 23.2 million tons of US corn for the 2020/21 year. The previous high for US corn exports to China was 5.15 million in 2011/12.
In January, we first noted that China customs data showed that grain imports soared to record highs in 2020 after tight domestic corn supplies pushed prices to multi-year peaks, driving demand for cheaper imports.
The USDA forecasted 2020/2021 corn exports at a record 66 million tons, and there's a chance in the upcoming growing season, the number could be much higher due to China's increasing demand. 
This is happening as corn prices have nearly doubled since August.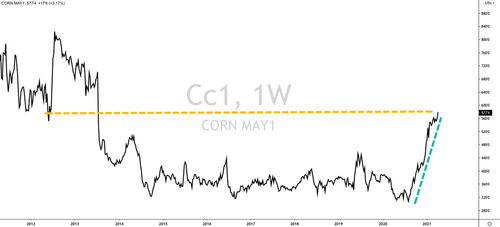 … prompting a very worried Albert Edwards to warn about rapid food inflation could result in socio-disturbances unless food prices stabilize and revert to much lower levels (see "Why Albert Edwards Is Starting To Panic About Soaring Food Prices.") The first places where unrest could happen due to higher food prices are in emerging market countries.  
In the meantime, soaring corn exports and prices are a blessing for US farmers who have had their farm incomes collapse in recent years. 
Tyler Durden
Sat, 04/10/2021 – 16:35