"Possible Tornado" – Strong Storms Rock Florida Panhandle Saturday Morning
A severe storm swept across Southern states early Saturday, destroying buildings in the Florida Panhandle and pelting areas with large hail, reported Associated Press News.
NWS Storm Prediction Center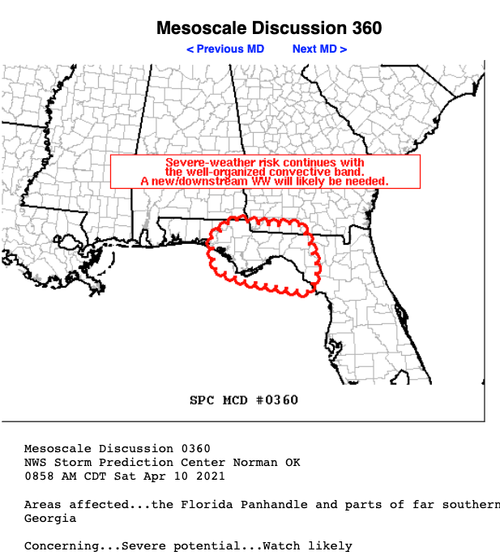 Radar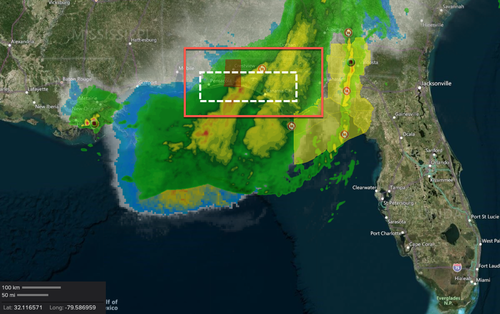 Multiple building structures from Pensacola to Panama City Beach, Florida, were leveled by a possible tornado. 
In Panama City Beach, Florida, a home and convenience store were leveled by a possible tornado, city officials said in a Facebook post . A resident's photo posted by The Panama City News Herald shows the store's roof and walls ripped away, but its counters, shelves and the merchandise they held appear untouched. There were no immediate reports of injuries. -AP
In one video, two men in Pensacola beach early this morning held shut automatic sliding door as the severe storm whipped by. 
Severe thunderstorm at Pensacola Beach early this morning… video from Holly Cook pic.twitter.com/XkGUf4PJyA

— James Spann (@spann) April 10, 2021
A building structure in Pensacola had its roof ripped off.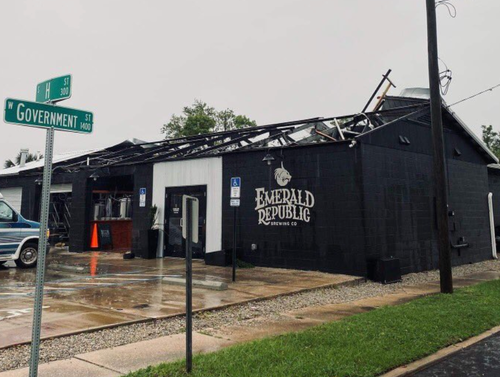 Baseball size hail pelted areas along the Gulf Coast. 
Very large hail falling along the Gulf Coast. Alabama, Gulf Shores and now the Pensacola area of North Florida. pic.twitter.com/wrujUsA6jA

— K0RAT (@K0RAT99) April 10, 2021
Tennis ball-sized hail ruined my friend's cars in Orange Beach tonight. We are on a bachelorette trip down here. I've never seen nor heard anything like it pic.twitter.com/f4KWY1OV7Q

— Shelby Myers (@FOX10Shelby) April 10, 2021
Panama City Beach government tweeted devastating pictures of local businesses leveled. 
High winds took the roof off Blu Convenience Store at Front Beach and Wells Street this morning around 8:30. Damage to a house on Wells. pic.twitter.com/sXAmgFDVhv

— Panama City Beach – Government (@beach_panama) April 10, 2021
"These are pictures shared with us after this morning's storms. Damage in Panama City Beach & Lynn Haven. @Whitleyweather says wind gusts up to 70 mph were recorded," tweeted WMBB News 13's Erin Morgan.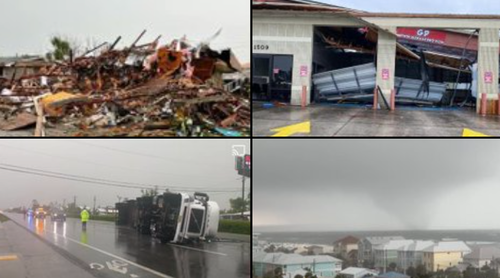 WMBB's Lauren Hope tweeted a video of a convenience store completely ripped to shreds. 
Damage this morning in the FL Panhandle. pic.twitter.com/kAcENi4FjH

— Lauren Hope WMBB (@LaurenHopeWX) April 10, 2021
WMBB's Anna Hoffman tweeted:
"There is severe damage on the beach after a possible tornado earlier this morning. We have a team out to check out more of the damage across the county and we will continue to update you throughout the day." 
The National Weather Service has not confirmed if a tornado caused this morning's damage across the Florida Panhandle.
Tyler Durden
Sat, 04/10/2021 – 14:55