Morning Traffic Congestion Is Returning To New York
Things are slowly getting back to normal in the Big Apple (or they would be, if any rich people still wanted to live there after Cuomo is done pushing their tax rate near triple digits).
While peak congestion remains mostly unchanged across the U.S, the morning peak appears to be slowly re-emerging in New York City as commuters begin to return to offices, according to an analysis from Bloomberg.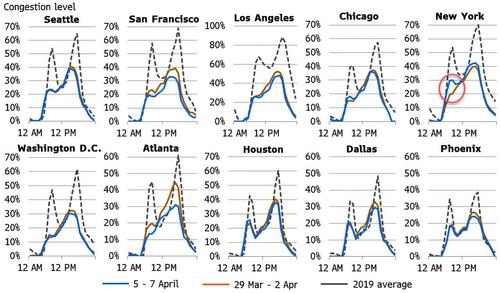 Elsewhere across North America, traffic levels remain around half of normal levels while outside the U.S., congestion levels have ticked higher across South America, in particular in Sao Paulo and Lima.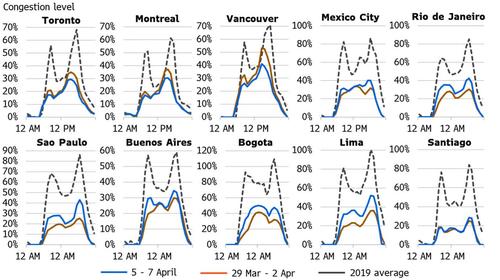 It's a different story in China, where average hourly peak congestion on a five-day rolling average basis in the major Chinese cities (Beijing, Shanghai and Guangzhou) remains close to pre-pandemic levels, with peak morning traffic in Beijing and Shanghai exceeding normal levels, while the recovery remains incomplete only in Guangzhou. At the same time, the recovery is advancing in many parts of South and South East Asia, with the re-emergence of the morning peak in many cities signaling that commuters are returning to offices.

Looking at Europe, the current impact of the latest round of lockdowns across Europe is difficult to discern due to the Easter public holiday affecting normal mid-week travel patterns. As Bloomberg notes, lockdowns of varying stringency remain in force across Italy, France, the U.K., parts of Scandinavia, Iberia and Greece, although the recovery appears to be underway in Spain and Portugal.
Tyler Durden
Fri, 04/09/2021 – 22:00