Melvin Capital Down Another 7% In March, Brings Q1 Loss To 49%
Just two questions: i) is Melvin Capital still short Gamestop and ii) how does it still have any clients left?
That's what we would like answered first and foremost after Bloomberg just reported that Gabe Plotkin's notorious Melvin Capital Management, best known for being blown up by a bunch of WallStreetBet redittors over its Gamestop short, and which lost billions of dollars requiring a $2.75BN bailout from Ken Griffin and Steve Cohen, ended the first quarter down 49% after dropping another 7% last month. 
The sharp drop – which "mysteriously" coincided with a sharp surge in Gamestop stock in March – reversed a gain of almost 22% in February – when Gamestop plunged after its historic January surge, which caused Melvin to lose a record 53% of AUM.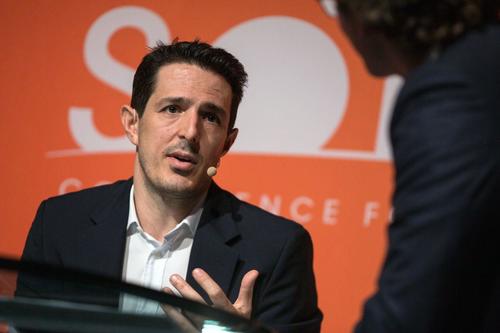 Another firm which was also caught in the cross hairs of the GameStop saga – Maplelane Capital – which we first profiled here, is reportedly "starting to recover" after losing 45% in January. The fund rose 6.5% in February and 2.1% in March, according to people familiar with the matter, and ended the first quarter with a loss of 39.5%.
The fund benefited from its long and short wagers on technology and consumer-focused companies, a Bloomberg source said. It also appears that unlike some others who claimed the opposite, Maplelane actually did close out its Gamestop short.
Still, after such historic and furious plunges, it's amazing that anyone is still an LP in either of the two funds, which will take many months if not years of high aggressive – and flawless – performance to recover the January losses. In fact, it's far more likely that the two funds will lose everything as they aggressively double down with Archegos-style leverage to recover their record losses.
As for our first question of whether Melvin is still short GME, we will have to wait until mid-April when its 13F hits. Assuming the fund is still around by then and hasn't been converted into a Credit Suisse-special family office.
So how did everyone else do? Well, Senvest – which orchestrated the entire Gamestop squeeze and made a killing on it – remains the top performing hedge fund according to HSBC, with a bunch of familiar names rounding out the top 20 including Odey Europe, Maverick, Glenview, Mudrick and the perfectly titled Tulip Trend fund. On the other side, there are quite a few systematic hedge funds in addition to the public-facing Renaissance fund, RIEF B, which continues to suck unlike its "friends and family only" cousin, Medallion.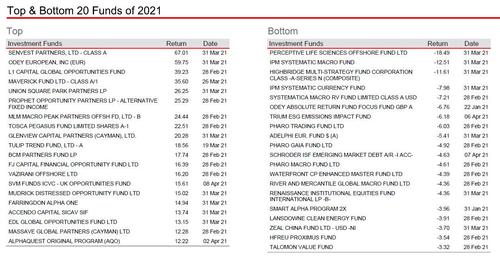 Tyler Durden
Fri, 04/09/2021 – 20:00