BlackRock, State Street Exploring Takeover Of Credit Suisse Asset Management Arm
Earlier, several financial media outlets reported that Credit Suisse was considering dramatically shrinking or selling off its prime brokerage unit, the hedge-fund-focused business that just lost $4.7 billion for the bank, obliterating 18 months of the bank's average net profits.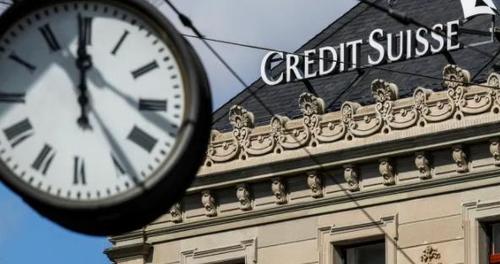 But in the last few hours, the focus has shifted to the bank's asset management unit, amid reports that several American firms might be interested in making a bid, even as the bank has yet to release the final tally of expected losses from the Greensill debacle.
With Credit Suisse stock trading at its lowest level in months after a 25% drop, some apparently see an opportunity for a deal. According to Reuters, a SPAC has partnered with BlackRock to hash out the possibility of making a bid to spin out Credit Suisse's asset management business, where the busted Greensill-stocked trade finance funds were based.
And they're not the only bidders. BlackRock rival State Street is also reportedly weighing a bid.
BlackRock and Jean-Pierre Mustier's blank-check firm are among investors expressing interest in Credit Suisse's asset management arm, three sources told Reuters, as the Swiss lender explores options for the unit after a run of costly scandals.

U.S. investment firm State Street Corp is also eyeing a rival bid for all or part of the Swiss bank's fund management business, while European asset managers including Germany's DWS are waiting in the wings, the sources said, speaking on condition of anonymity.

Former UniCredit boss Mustier's blank-check firm Pegasus Europe, which focuses on financial services investments, is due to list in Amsterdam between the end of April and early May, two sources said.

A spokeswoman for Credit Suisse said the bank had no plans to sell all or any parts of its asset management business. BlackRock, State Street, DWS and Pegasus Europe all declined to comment.
The sources said Credit Suisse is in the early stages of a strategic review of its asset management arm and has yet to entertain in-depth discussions with interested parties.
The bank will need to wait for former Lloyds boss Antonio Horta-Osorio to take over as chairman in May before any decision on whether to sell or spin off the unit can be taken, the sources said, cautioning no deal was certain. Credit Suisse in March announced an overhaul of the asset management unit amid the fallout from the Greensill debacle, bringing in former UBS executive Ulrich Koerner to lead the unit and separating it from international wealth management.
As Bloomberg reported in a piece published Friday, Horta-Osorio has a few possible strategies that he can embrace as he leads the turnaround of the bank. They include: a housecleaning that shrinks the Credit Suisse balance sheet and reduces capital allocated to the investment bank, selling parts of the business to deepen its focus on wealth management and rebuild capital (though that would probably be better served by selling the prime brokerage business, not the asset management arm), acquiescing to an acquirer (Barclays? Deutsche Bank?). Or simply merging with UBS.
Tyler Durden
Fri, 04/09/2021 – 15:20