As Olympics Loom, Tokyo Tightens Restrictions To Combat COVID Surge
Days after a surge in infections in Osaka forced the Olympic torch off the street, prompting Taro Kono, Japan's minister in charge of vaccinations, to warn that Tokyo had also seen a surge in COVID cases driven by "a similar mutation," it looks like the Japanese capital city, which is due to host the 2020 Olympics in three months, is officially dealing with an "emergency surge" of its own.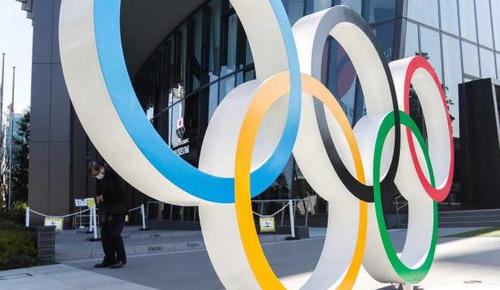 Tokyo, which came out of a state of emergency on March 21, might be heading back into lockdown after Its governor, Yuriko Koike, told reporters Thursday that she had asked the government to allow her to issue binding orders under a new virus prevention law enacted in February. These penalties could include punishments for business owners who defy government measures, as well as compensation for those who comply.
"It would be a matter of time before Tokyo faces a situation similar to Osaka," Koike said.
She said timing and details of the new measures, including shorter hours for restaurants and bars, will be decided later, possibly on Friday.
Koike said she is alarmed by the rapid spread of the new variants, especially one initially detected in the UK. Tokyo reported 545 cases Thursday, the highest reading since late February.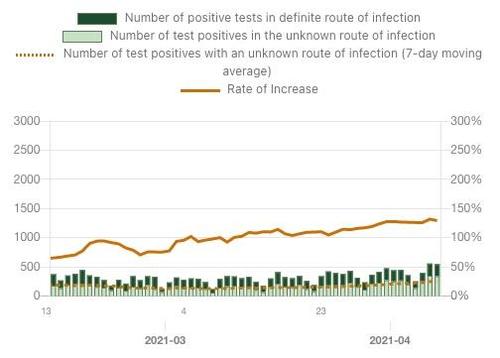 Kyodo News agency reported Wednesday that Japan is considering prioritizing Olympic athletes for vaccination by late June. Chief Cabinet Secretary Katsunobu Kato on Thursday denied that his government is discussing any details at the moment, but added that he is closely watching discussions among Olympic officials about how to guarantee athletes' safety for the games, which are set to begin in three months.
The latest surge in Japan, which notably weathered COVID with far fewer cases and deaths than other developed nations, started in western Japan, including Osaka, where the daily toll hit a record 905 earlier this week. Gov. Hirofumi Yoshimura asked that the Olympic torch relay scheduled for Tuesday and Wednesday be held at a park and not on the public road. He said more than 70% of hospital beds have been occupied, a threshold for a local medical alert.
Reports of rising cases have impacted Japanese equity indexes, which declined slightly overnight.
Tyler Durden
Thu, 04/08/2021 – 21:20