Amazon Clinches Win Over Union As Friday Vote Count Continues
Amazon clinched enough votes to defeat a bid for unionization at a Bessemer, Alabama warehouse on Friday, with 'no' votes against forming a union outnumbering 'yes' votes by more than 2-to-1, according to the New York Times.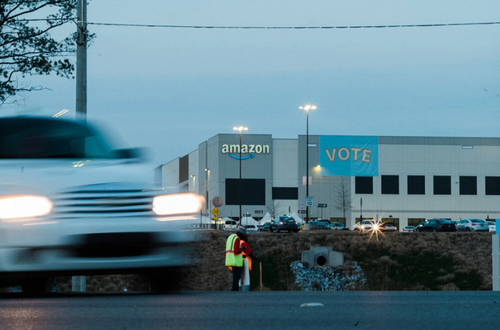 As of this writing, the vote stands at 694 'yes' votes and 1,693 'no' votes, out of 3,215 ballots cast. While counting is ongoing, Amazon has secured enough votes to win.
When I was in Bessemer, AL, two pro-union Amazon employees there told me if union vote didn't pass, they were confident they'd lose their jobs after speaking out. One told me: "I'm doing the best I can to help people, and make it better for the people. I don't regret. No regret."

— Gary Grumbach (@GaryGrumbach) April 9, 2021
The win for Amazon comes after spending more than a week in closed sessions with the labor board to review the eligibility of each ballot cast. Several hundred ballots were contested, largely by Amazon, which were then set aside to be adjudicated and counted if they are determined to be vital to the outcome. Given that Amazon just received enough votes to win, the contested ballots are likely to be moot.
As the Times notes, Amazon just defeated "the most serious organized-labor threat in the company's history. Running a prominent campaign since the fall, the Retail, Wholesale and Department Store Union aimed to establish the first union at an Amazon warehouse in the United States. The result will have major implications not only for Amazon but also for organized labor and its allies."
According to labor organizers, poor warehouse working conditions were the result of Amazon's pursuit of efficiency and profits, while Amazon countered that their starting wage of $15 an hour is more than what other local employers are offering.
Tyler Durden
Fri, 04/09/2021 – 11:12