Manhattan Condo Sales Increase For First Time In Four Quarters
Spring is here, not just in terms of warmer temperatures but also in the Manhattan housing market. Vaccine rollouts are in full effect as people become more comfortable in returning to the borough. Greater housing affordability, coupled with a slump in housing prices and historically low mortgage rates, have increased sales. 
The latest edition of the Elliman Report shows housing sales in Manhattan rose in the first quarter of 2021, exceeding year-ago levels for the first time in four quarters. First-quarter sales were 2,457, which is an increase of 2.1% over the same period last year – when the pandemic paralyzed the metro area.
In a prior report, Jonathan Miller, president and CEO of real estate appraisal firm Miller Samuel and author of the report, said the latest sales rebound should not be viewed as an "imminent recovery."
Sales in the borough increased last quarter for a multitude of reasons. From historically low mortgage rates to increased affordability due to rising inventory putting downward pressure on prices, those who once thought Manhattan was unaffordable are now searching for deals. 
Over the first quarter, the median condo sale price averaged $1,550,000, or about a 5% decline over the same period last year.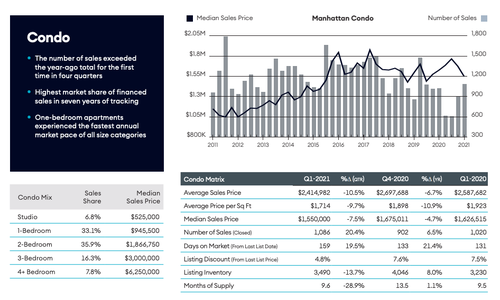 The first quarter recorded the highest market share of financed sales in seven years, the report said. This means that first-time buyers (who mainly rely on financing) are entering the borough's real estate market. Studios and one-bedroom apartments saw the fastest annual sales out of all categories. 
With inventory in the borough at near-record highs. Bidding wars for properties dropped to their lowest level in nearly thirteen years. 
Despite inventory much higher than where it was one year ago. Miller doesn't consider Manhattan housing inventory "bloated." In fact, he said inventory could soon approach "normal levels. "
Here's a summary of the report: 
Manhattan sales exceed year-ago levels for the first time in four quarters. The market share of bidding wars fell to its second-lowest level in nearly thirteen years of tracking. Listing inventory continued to see annual increases skewed towards smaller apartments while median sales price for co-ops and condos individually declined year over year. Co-op sales more than doubled since the end of the spring lockdown, and condos saw the highest market share of financed sales in seven years of tracking. All luxury price trend indicators fell short of year-ago levels, seeing larger declines than non-luxury. New development sales below the $3 million threshold surged year over year.
Buyers have been snatching up studios and one-bedroom apartments, even as the upper market remained in turmoil. 
While more and more people are getting vaccinated and New York City eases virus restrictions, more buyers will return to the borough. Still, with so much inventory overhang, dramatic price increases similar to what is being observed in surrounding suburbs will likely not be seen in the near term. 
Tyler Durden
Thu, 04/08/2021 – 15:29