GM Cuts Production, VW Warns Texas Storms Hurt Chip Supplies As Semi Shortage Hammers Carmakers
Microchip supply bottlenecks have hamstrung supply chains for everything from laptops to cars. A few hours ago, we reported that shortages of critical chip supplies have forced the company to push back production of MacBooks and iPads until the second half of the year.
And just a few weeks after we shared a warning from Bloomberg Markets commentator Michael Msika about chip shortages potentially undermining the market-beating rally in shares of carmakers, it looks like these fears have been realized, as both GM and VW have warned about production difficulties tied to chip shortages on Thursday.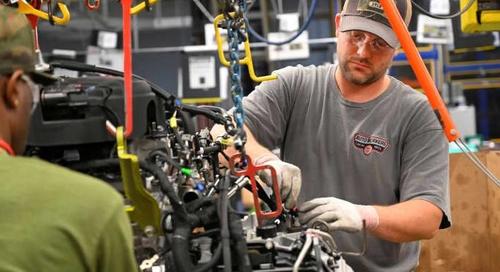 GM shares skidded after the company warned it would temporarily idle plants in North America due to the ongoing semiconductor chip shortages. The temporary plant closures range from a week or two to several weeks. GM warned that the shortages would reduce its operating profits by $1.5 billion to $2 billion this year.
The temporary plant closures range from a week or two to several additional weeks for plants that have already been idled due to the parts disruption. GM will also restart production Monday of midsize pickups after a two-week shutdown due to the shortage at a plant in Missouri.
CNBC explains that semiconductors are key components use in the infotainment, power-steering and braking systems, among other critical vehicular systems. As multiple plants shut down last year due to Covid, suppliers directed semiconductors away from automakers to other industries, creating a shortage after consumer demand snapped back stronger than expected. CNBC managed to confirm the following plant closures.
GM's plant in Spring Hill, Tennessee will close beginning Saturday through April 23, according to a message from the United Auto Workers union to workers obtained by CNBC. The plant builds the GMC Acadia and Cadillac XT5 and XT6 crossovers. GM confirmed the shutdown.

GM said another crossover plant that produces the Chevrolet Traverse and Buick Enclave near Lansing, Michigan will be idled the week of April 19 and production of the Chevrolet Blazer at a plant in Mexico will also be canceled that week.

The company also is extending downtime at plants in Kansas and Canada that produce cars and crossovers through mid-May. They produce the Chevrolet Malibu sedan and Equinox and Cadillac XT4 crossover. Another plant in Lansing that produces the Chevrolet Camaro and Cadillac CT4 and CT5 also had its downtime extended by two weeks to the first week of May.

The temporary closures are extending shutdowns at plants that have already been idled due to the parts shortages.

The company expects the problem will reduce its operating profit by $1.5 billion to $2 billion this year.
In a statement on the closures, GM said "we continue to work closely with our supply base to find solutions for our suppliers' semiconductor requirement and to mitigate impact on GM."
Shares of the automaker slipped nearly 3% on Thursday as US markets moved broadly higher.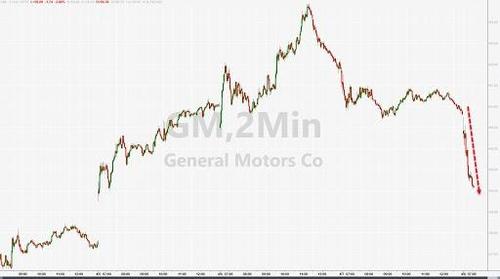 GM wasn't the only automaker to warn that it expects supplies of critical semiconductors to "remain tight" in the coming months, something that has been exacerbated by the winter storms that shuttered production across Texas. In Texas, "further production adjustments can't be ruled out," the VW group said in an email.
The impact on full-year vehicle production will depend on how long the shortage lasts, the company said, adding that VW, the world's largest automaker, is pushing to recoup lost production as much as possible in the course of the year.
Tyler Durden
Thu, 04/08/2021 – 11:24