Ex-NFL Player Behind Horrific Mass Murder-Suicide In South Carolina Home
There were shocking headlines of another mass shooting Thursday morning – this time at a home in a suburb of Charlotte, N.C. – but it was only later in the afternoon that police identified that a longtime professional football player was behind the murder rampage and suicide. 
Ex-NFL player Phillip Adams killed five people and wounded a sixth victim on Wednesday before turning the .45-caliber handgun on himself. He shot a prominent doctor that was reported to have been treating Adams as well as his wife and their two grandchildren, before later killing himself after he sough refuge in his parents' house with police outside. Another man who had been working at the house was also shot and pronounced dead at the scene.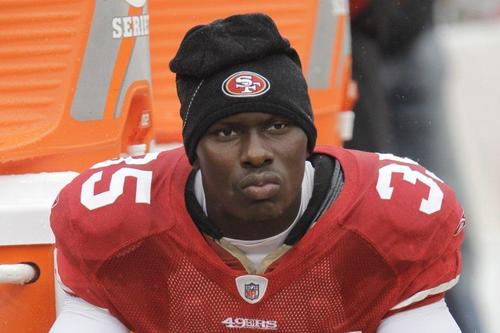 York County Sheriff Kevin Tolson during an initial news conference said "there's nothing right now that makes sense to any of us," and indicated police have yet to identify a motive. 
However, Adams' distraught father told a local television station that injuries sustained during his football career are to blame: 
"I can say he's a good kid — he was a good kid, and I think the football messed him up," Alonzo Adams told WCNC-TV. "He didn't talk much and he didn't bother nobody."
A brief review of the NFL player's career for multiple teams is as follows: 
Adams, a cornerback, played in college for South Carolina State. The San Francisco 49ers picked him in the seventh round of the 2010 draft, and he played there until he was released before the 2011 season. He went on to play for five more teams: the New England Patriots, Seattle Seahawks, Oakland Raiders, New York Jets and Atlanta Falcons. His final year in the NFL was 2015.
BREAKING: The former NFL pro Phillip Adams has been named as the suspect in a shooting in York County, South Carolina, that left Dr. Robert Lesslie, his wife, and two of their young grandchildren dead https://t.co/ybYLQaKNU0

— The Daily Beast (@thedailybeast) April 8, 2021
Tragically the 33-year old Adams even took the lives of children during the rampage: 
Prominent York County doctor Robert Lesslie, 70, his wife Barbara Lesslie, 69, and their grandchildren, 9-year-old Adah Lesslie and 5-year-old Noah Lesslie, were all pronounced dead at the scene. James Lewis, 38, who was working at the house at the time, was found shot to death outside. A sixth victim sustained "serious gunshot wounds" and was hospitalized, York County Sheriff's Office's spokesperson Trent Faris said.
The tragic killings have sparked widespread speculation that Adams could have been suffering from Traumatic Brain Injury (TBI) which has been subject of immense controversy in the league over the past multiple years.
ESPN among others is highlighting the possibility – but again it remains pure speculation…
Chris Benoit, Aaron Hernandez, Jovan Belcher, and now Phillip Adams. How much is too much before we actually do something about the obvious dangerous effects of long term brain damage? https://t.co/K6HI9pwrUe

— Dexter Granderson (@mmadexter) April 8, 2021
As a rookie late in the 2010 season, Adams suffered a severe ankle injury that required surgery that included several screws being inserted into the leg. He never played for the 49ers again, getting released just before the 2011 season began. Later, with the Raiders, he had 2 concussions over 3 games in 2012.

Whether he suffered long-lasting concussion-related injuries wasn't immediately clear. Adams would not have been eligible for testing as part of a broad settlement between the league and its former players over such injuries, because he hadn't retired by 2014.
The major settlement referenced by ESPN and spotlighting of potential long term brain damage being found in professional football players was focus on the 2015 Hollywood movie Concussion which brought huge public attention to the issue. 
The movie presented fictional accounts of NFL players committing suicide and threatening loved ones – which were based on true accounts of murder-suicides involving NFL players over prior years. 
Tyler Durden
Thu, 04/08/2021 – 17:40