"The Party Does Seem Like It's Over": Biden Tax Plan To Hit Tech And Pharma Hardest
It looks as though technology and pharmaceutical companies could be hit the hardest from President Biden's proposed tax hikes.
Regardless, even after the changes are made, regulators are going to have their hands full in trying to minimize loopholes to get around the new changes. 
Most assets at companies like pharmaceutical companies or technology companies are intangible assets like IP and patents. This makes it easier for these companies to structure their operations in tax-friendly ways because they don't have to "move" anything to move their headquarters and, ergo, their tax treatments. 
Kyle Pomerleau, a resident fellow at the American Enterprise Institute, commented to Bloomberg: "Tax planning is always going to be present as long as there are differences in tax laws across different countries. Companies are going to take advantage of that."
And it has been a bipartisan effort to try and bolster taxes on companies who have been taking money overseas. Biden's plan implements a 21% minimum tax on foreign profits and a 15% minimum levy on profits reported on financial statements, Bloomberg writes. 
These provisions could hit tech and pharma the hardest. Matthew Gardner, a senior fellow at the Institute on Taxation and Economic Policy said: "This is aiming to prevent gaming the system entirely. The party does seem like it's over."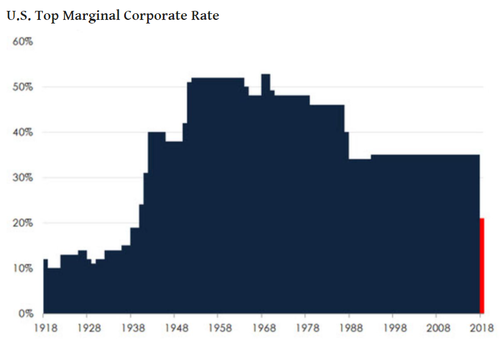 Merck said "these proposed tax increases would undermine the biopharmaceutical sector's ability to do its important work when the world needs it most."
Trump's tax plan began collecting taxes on companies from overseas, but it was at a rate that was about half what would be collected at home. Treasury Secretary Janet Yellen, in trying to level the playing field for all participants (and take the next obvious step toward globalization) suggested this week the idea of a "global minimum tax". 
Democrats are arguing that Trump's plan didn't do enough to prevent tax avoidance. About 55 companies disclosed paying no Federal Income Taxes in 2020 despite posting annual profits for the year. 
Joshua Bolten, the president of the Business Roundtable, said his organization's members welcomed "a more level playing field for globally engaged U.S. companies," but that the idea of a global minimum tax proposal "threatens to subject the U.S. to a major competitive disadvantage."
Legislation for Biden's plan has yet to be written and it remains to be seen how effective it would be. Biden's team has yet to define the income that they are going to tax. 
Robert Kovacev, a partner at law firm Norton Rose Fulbright who previously litigated tax cases for the U.S. Justice Department, concluded: "It's easy for politicians to say we don't like these companies not paying tax. It's difficult to develop a statutory scheme that achieves that goal."
Tyler Durden
Wed, 04/07/2021 – 12:45