Small Caps & Cryptos Clubbed As Bonds & The Buck Bounce
Stocks slipped a bit around 1115ET when Fed's Kaplan warned "I do worry about excesses and imbalances," adding that "failing to communicate Fed exit could stoke risk-taking." Kaplan went to say that The Fed "should withdraw some accommodation once the pandemic is over."
Then Yellen unveiled her Tax America plan and that spooked stocks further.
Stocks then rallied on The Fed minutes which really didn't say much at all – and were thus interpreted as dovish, as there was little to no sense that policy makers were worried about an overheating U.S. economy.
As is clear, Small Caps were the day's biggest losers with Nasdaq holding modest gains and the Dow/S&P flat…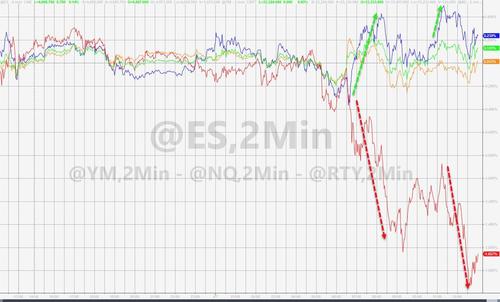 The short-term rates market continued its very recent dovish tilt today after The Fed minutes, now pricing in slightly less than one rate hike by the end of 2022 (still way ahead of The Fed's dots)..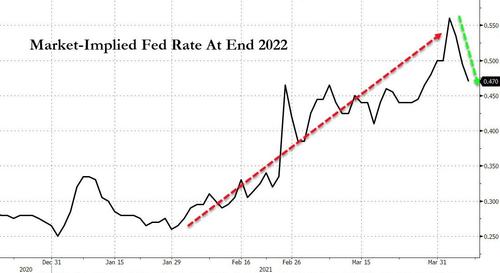 Source: Bloomberg
But as long as stocks in general are rising… everything is awesome right? The Fed's got it!
Notably, "most shorted" stocks were slammed today, hedgies most-held stocks were flat…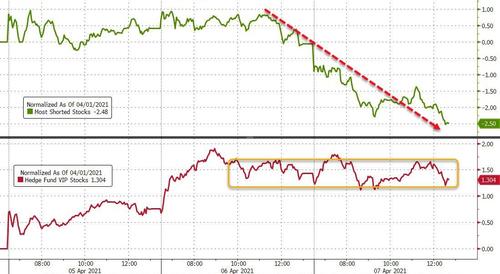 Source: Bloomberg
Nasdaq continued its significant outperformance over Small Caps, surging to its strongest since mid-Feb (reversing around The March FOMC meeting)…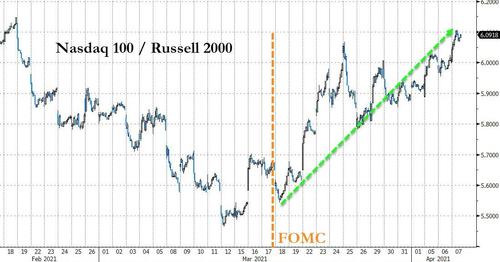 Source: Bloomberg
Notably, the Russell strength relative to Nasdaq reversed perfectly at the longer-term downtrend…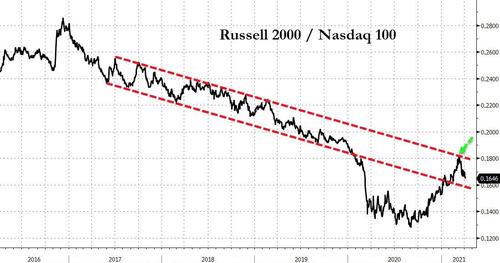 Source: Bloomberg
And growth broke out relative to value…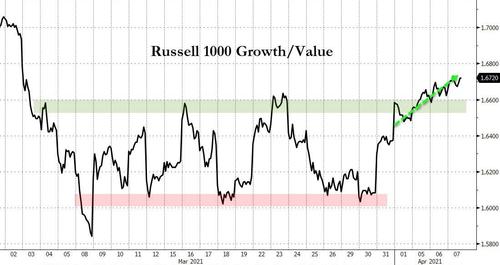 Source: Bloomberg
A mixed bag in bonds today with the long-end offered and short-end bid (5Y -1bps, 30Y +2bps), which pushed the 30Y higher on the week while the 5Y is still -4bps…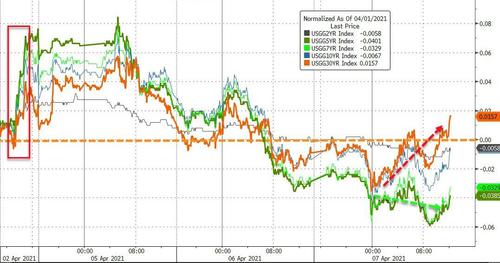 Source: Bloomberg
10Y chopped around 1.65% today…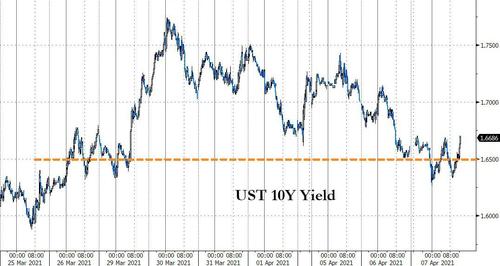 Source: Bloomberg
Junk bond spreads compressed to their tightest since 2007, back below 300bps…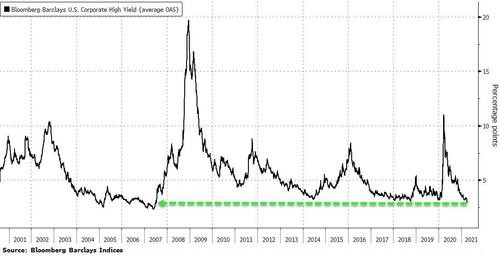 Source: Bloomberg
"We're not quite to peak greed yet, but we are getting close," said Noel Hebert, director of credit research at Bloomberg Intelligence.
After 4 straight days of being dumped in European markets, the dollar managed a bounce today…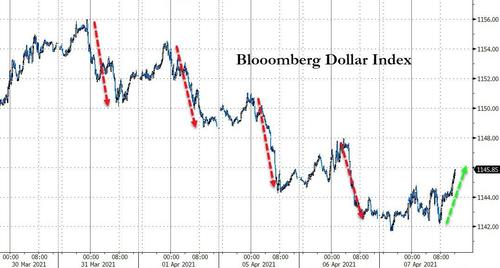 Source: Bloomberg
Cryptos puked with Bitcoin back below $56k…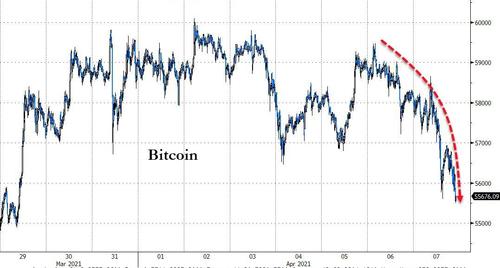 Source: Bloomberg
Ether was also clubbed like a baby seal, back below $2000…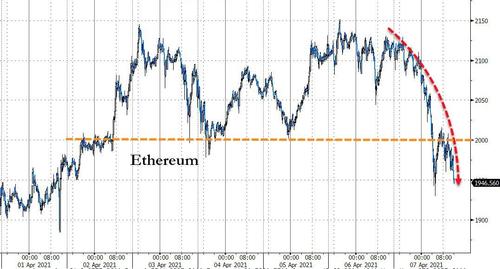 Source: Bloomberg
Also we note – as Galaxy's Mike Novogratz pointed out – that 5Y TSYs is a strong hedge for bitcoin…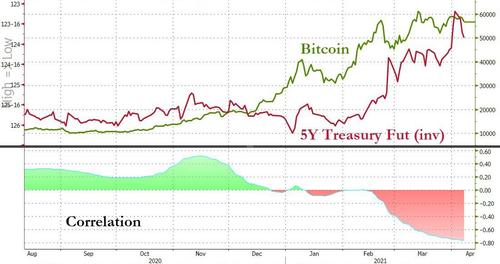 Source: Bloomberg
Dollar's gain was gold's loss today (the barbarous relic was hit after the fed minutes)…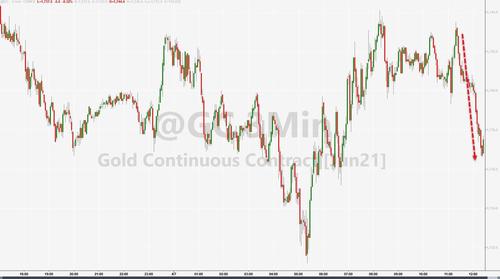 WTI tumbled on last night's API, tested $60 overnight, then tumbled again on the official data… only to bounce off $58 to end higher on the day…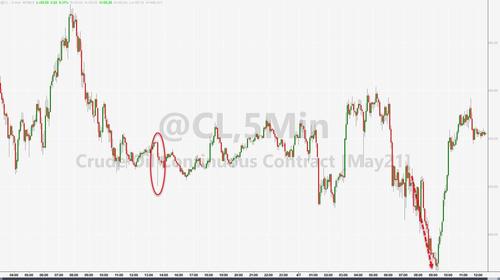 Finally, the market appears to be pricing-in another helping of central bank largesse… let's hope it's not disappointed…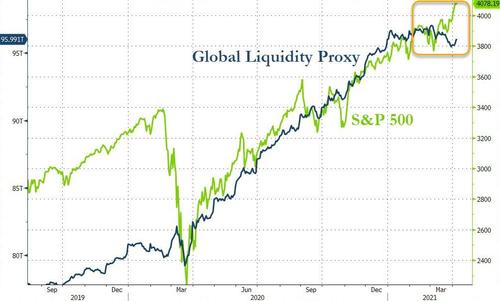 Source: Bloomberg
Tyler Durden
Wed, 04/07/2021 – 16:00