Is Another Family Office Blowing Up: JPM Dumps 9MM Share Block Of Academy Sports
In the aftermath of the Archegos blow up, the biggest nightmare on Wall Street – where there is never just one cockroach – is that (many) more Archegos-style, highly levered "family office" blow ups are waiting just around the corner.
Well, in a transaction after the close that is sure to spark much heated controversy tonight and tomorrow morning, Bloomberg announced that JPMorgan was offering a 9 million block of Academyc Sports and Outdoors (ASO) stock. Since this is virtually identical to what happened two Fridays ago when similar public BWICs by Goldman and other banks proceeded to unwind the Archegos portfolio, the immediate question on everyone's lips is whether a second highly levered family office has blown up.
There are more similarities: the block offered by JPM is massive: the 9MM shares represents almost a quarter of ASO's float and roughly 10% of ASO's total outstanding shares.
Furthermore, in what may have been an Archegos-style levered attempt to squeeze the shorts using billions in TRS leverage, ASO stock – whose market cap is $2.8 billion – had surged 25% in the past month… only to tumble 6% after hours.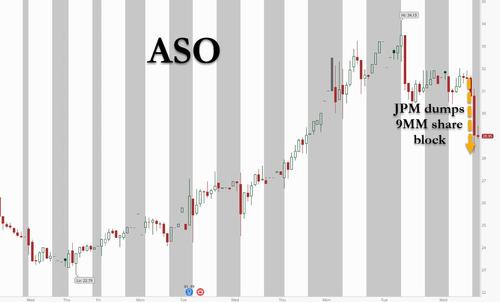 While there are no clear catalysts that could have forced a margin call on the yet-unknown fund (if indeed this is another Archegos), on Tuesday, the stock did drop sharply at the open from $34 to $31, although if that modest drop alone was enough to force margin calls we dread to imagine just how much leverage this fund was using…
Tyler Durden
Wed, 04/07/2021 – 17:22