Here's Why Hedge Funds Are Having Another Dismal Year
It's shaping up as one of those years for hedge funds. A little over three months into the new year, retail investors (as measured by a basket of retail favorite names) is up almost 20%, the S&P is up a little over 8% while he dge funds have barely managed to generate any returns. In fact, until last week, the average global equity Long/Short fund was down for the year. It was only in the past week when Goldman Prime found that Equity Fundamental L/S hedge funds rose +2.92% globally…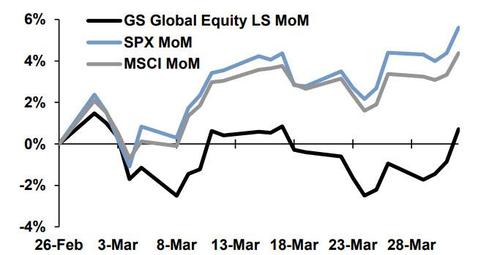 … that year-to-date performance finally tipped into the green by a minuscule +0.05%.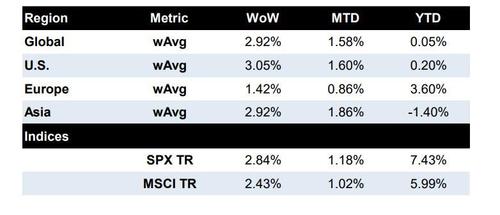 And it's not because hedge funds have "learned" from Archegos' mistakes and are cutting their use of leverage: on the contrary, Goldman Prime writes that gross leverage fell a modest -1.0 pts to 240.2% (94th percentile) while Net leverage rose +0.5 pts to 88.7% (98th percentile). Overall book L/S ratio rose +0.8% to 2.170 (95th percentile).
No, there is something else going on here. As Bank of America found, hedge funds have become so accustomed to quick and easy beta gains from buying FAAMG and tech stocks and slapping 3x, 5x, or more leverage, that they no longer have any idea how to do actual value investing.
As Bloomberg notes, the reason why hedge funds have performed dismally so far in 2021 – even without the help of Archegos – is that while most other investors have been wagering on an economic rebound leading to a surge in value names since November's presidential election, one group of investors has refused to rotate.
Indeed, despite a rally of at least 40% in energy and financial shares over the five months, the average hedge fund – which no longer remember what net leverage, EBITDA or Free Cash Flow coverage is – has steadfastly shunned value stocks in the reflation trade, favoring instead companies seen as resilient during an economic slowdown, i.e. tech names that in the past decade have led to quick and easy gains. Indeed, their exposure to cyclical shares sits at one of the lowest levels in a decade relative to defensive ones, as the following BofA chart shows.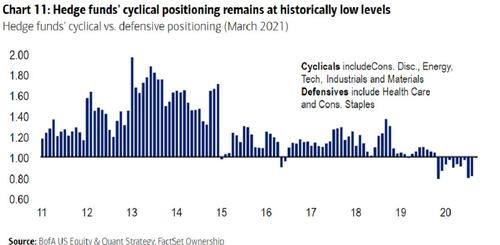 It's not just BofA clients who have forgotten how to do anything but "buy and lever up": Morgan Stanely client data shows a similar pattern, and after peaking near the end of 2020, the industry's net exposure to the reflation strategy has retreated to the 78th percentile over the last 12 months, according to the bank's prime brokerage unit, which most recently has been in the news for dumping its exposure to Archegos ahead of all other prime brokers.
According to Bloomberg it isn't obvious what's driving the aversion to value:
One theory is that hedge funds aren't buying the return-to-normal narrative despite the rollout of vaccines. Last year, when retail investors rushed to hunt bargains in beaten-down groups like airlines and hotels, professional speculators were hesitant to chase pandemic-ravaged companies.

Another explanation holds it may be related to apprehension that economic acceleration, propelled by monetary and fiscal support, will lose steam once the latest federal spending wears out. Mike Wilson, an equity strategist at Morgan Stanley, is an ardent proponent advocating a shift to stocks better positioned to weather potentially disappointing economic data, such as consumer staples.

"This is the time to upgrade the portfolio and shift toward quality ahead of slowing rates of change in a number of macro indicators," Wilson wrote in a note to clients Monday.
We disagree that it "isn't obvious" what is causing this drift: a decade of Pavlovian "buying the f**king dip" in tech and devastation in value stocks has made an entire industry into the best paid experimental dogs in the world, so much so that when told to do work and find good "value" investments, hedge fund portfolios immediately slink back to buying Tesla, Google and Amazon.
In any case, whatever reason is behind hedge funds' cautious stance, Bloomberg is correct that it's starting to reverberate in the broad market: "over the past month, utilities and consumer staples have taken over leadership from energy shares while a spike in bond yields stalled even as hiring and services-sector data outstripped estimates."
Meanwhile, Wall Street strategists find themselves desperately urging hedge funds to do precisely the opposite of what central banks have indoctrinated for the past decade. For example, Canaccord strategist Tony Dwyer, said investors should take advantage of any pullback in the reflation trade to add exposure.
"The only way to view this, in our view, is as a 'Capital V' recovery that is in the early innings, and the only thing that could stand in the way would be another shutdown of the economy to contain new Covid-19 strains or a policy mistake by the Fed," said Dwyer. "Neither appear imminent."
Furthermore, it also appears that the Great Rotation into energy that was predicted by JPMorgan in March never occurred, and when compared to history, hedge funds' exposure to financial and energy shares now trails all other sectors, BofA data show. Such skepticism bodes well for these stocks that are under-owned and traded at lower multiples relative to earnings or book value, according to the firm's strategists led by Savita Subramanian.
"Hedge funds are yet to embrace rotation to value which leaves room for increased positioning in the coming months," she wrote in a note last week.
Of course, for that to happen hedge funds need to step away from blindly hoping that doing what worked in the past decade will still work now. Until then, returns in the hedge fund industry will continue to suck.
Tyler Durden
Tue, 04/06/2021 – 22:05