Top US Auto Group Calls For Lawmakers To Beef Up Chip Production Amid Shortages 
The global chip shortage, which has forced automakers to dial back production, or in some cases, suspend production, is the latest example of supply chain bottlenecks. The shortage is so impactful on the US auto sector that an industry group Monday urged lawmakers on Capitol Hill for support. Chip disruptions could result in 1.28 million fewer vehicles produced this year, and bottlenecks may persist well into the second half of the year. 
"Given the importance of chips to current auto production and future automotive innovation, it would be regrettable if none of the funding under the CHIPS for America Act, once appropriated, was used to increase the resiliency of automotive supply chains through the construction of new facilities that produce or can produce auto-grade chips," John Bozzella, president and chief executive officer of the Alliance for Automotive Innovation, said in written responses to the US Department of Commerce that Bloomberg reviewed.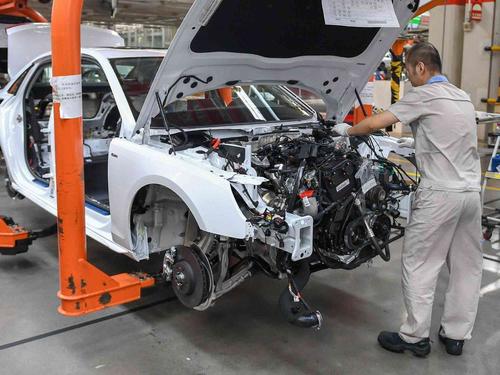 Bozzella said, "For this reason, we suggest that at least some portion of any CHIPS for America Act funding be used to build new capacity that will support the industry and mitigate the risks to the automotive supply chain evidenced by the current chip shortage."
The trade group said the federal government could designate "a particular percentage – that is reasonably based on the projected needs of the auto industry – be allocated for facilities that will support the production of auto-grade chips." 
Bozzella's trade group represents major automakers such as General Motors Co, Ford Motor Co, Toyota Motor Corp, Honda Motor Co, and Stellantis NV, many of which are reeling from the chip shortage. 
The global chip shortage has crushed many automakers after some of their plants in the US and other locations outside of the US have idled factories. 
In March, the Biden administration requested $37 billion in funding for legislation to boost chip manufacturing in the US. Biden has also signed an executive order to address the semiconductor chip shortage. 
The shortage is not just centralized in the US. Auto plants worldwide have idled factories due to the lack of chips. 
One striking feature of the global supply chain turmoil is the widespread issues. The semiconductor shortage and its drag on auto production have garnered significant attention. Goldman economist Jan Hatzius notes the shortage of everything is underway.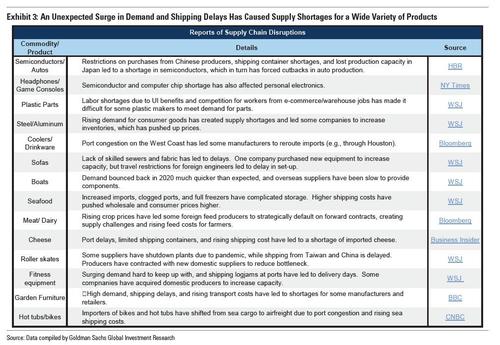 To make matters worse for the US and global auto industry, there appears to be a developing plastic shortage. 
Tyler Durden
Tue, 04/06/2021 – 12:05