Rebound In Full Swing As Capacity Crowd Expected For Rangers Home Opener
One month after Texas Governor Greg Abbott lifted the mask mandate and all other anti-pandemic restrictions amid declining hospitalizations and infection rates, the Texas Rangers held their first full-capacity sports game on Monday. 
For now, the lockdown nightmare is over, for millions of Texans, with at least 38,238 of them attending the first home game for the team at Globe Life Field in Arlington.  
So this is what a packed ballpark feels like?! Almost forgot. What a sight! pic.twitter.com/L4nz2lc7fi

— Sam Gannon (@SamGannon87) April 5, 2021
FOX 4 News Dallas-Fort Worth said the game was declared a "sellout" as fans have been waiting nearly a year to attend a game.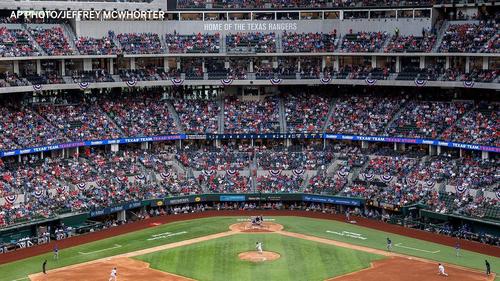 "Been waiting for a while; we are fired up and ready to go," said fan Lane Smith.
In fact, this is one of the first full capacity major sports events in the US since the COVID-19 pandemic began more than a year ago. With the stands full, event staff made sure fans were abiding by safety guidelines.
"After being safe for a year, to be in a large crowd, it's just a little nervous," said fan Carmen Smith.
"Yes, there are some mild concerns, but it seems as if people are being safe, and we are being as safe as we can be," said Tommy Ware.
Some of the safety guidelines included mandatory mask-wearing inside the ballpark despite Abbott's lift on the mask mandate. 
Home opener #Rangers pic.twitter.com/KTMkjMxqFQ

— Mike Doocy (@MikeDoocyFox4) April 5, 2021
Abbott's anti-pandemic measures had drawn the ire of other governors, CDC, and the Biden administration. 
The Rangers game comes one day after Michael Osterholm, an adviser to President Biden's coronavirus task force, told NBC's "Meet the Press" that "the highest number of cases reported globally since the beginning of the pandemic" will occur in the coming weeks. 
Despite the federal government's fearmongering, Texas health officials reported around 1,000 new infections on Monday, the lowest since June 2020.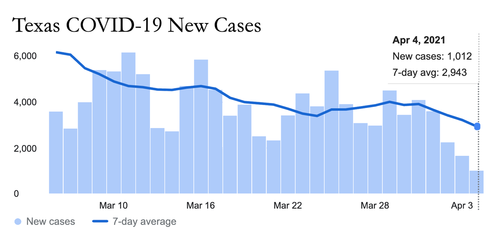 The Ranges said Abbott's lifting of health restrictions allowed full capacity for Monday's home game. 
"We waited for one year to open this business with Rangers fans in it. Certainly excited when the governor issued the executive order on March 2 to give us that capability," said Rob Matwick, the Rangers executive vice president of ballpark operations. "When we found out that would be the opportunity, we certainly look forward to welcoming as many fans as we can this season."
About a month after Abbott eased virus restrictions, the state has not observed a surge in new infections. People are cautiously emerging from their homes, trying to remember what it was like in pre-COVID times. Perhaps the best way to feel liberated from the draconian lockdown measures is for people to get outside and attend a good old fashion baseball game.
Those in other states who don't have the luxury to attend a major sports event because of restrictions, try visiting parks, pick up a new outdoor hobby, and or just go outside and relax. 
Tyler Durden
Mon, 04/05/2021 – 22:20