Iranian Electronic Surveillance Vessel Hit In Red Sea, Unconfirmed Reports Say
Unconfirmed reports circulating on social media indicate an Iranian spy ship was hit in an attack in the Red Sea, amid increasing tensions between Israel and Iran, according to Israeli newspaper Haaretz. 
The targeted vessel is a merchant ship but is likely a secret marine spy base operated by the Islamic Revolutionary Guard Corps (IRGC). 
Saudi-owned television network Al Arabiya reports the vessel affiliated with the IRGC was attacked in the Red Sea off the coast of Eritrea, a northeast African country on the Red Sea.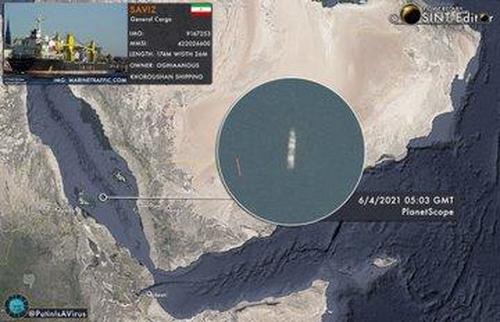 Israel-based news network Channel 13's Alon Ben-David, tweeted:
A spy ship and electronic surveillance of the Revolutionary Guards were attacked in the Red Sea. The ship was damaged, making it difficult for it to continue operating
The U.S. Naval Institute provides more information on the secret IRGC spy ship: 
The naval role of ships like the Saviz is hard to prove with open sources, but the inference is clear. There is no legitimate civilian explanation for the action, and uniformed men have been seen onboard. On the ship's deck are Boston Whaler type launches, a boat type popular with the IRGC and not in keeping with Saviz's civilian design.

The ship is anchored off the Yemen coast at the southern end of the Red Sea, near to where Bab el-Mandeb Strait forms a natural choke point. Automated Information System transmissions and analysis of commercial satellite images show the ship has barely moved in the past three years. From its position, the ship can provide constant surveillance of maritime traffic. The narrow waterway just south of its position squeezes tankers to a channel just a couple of miles wide. There have been numerous attacks on tankers in the area.
There has yet to be any confirmation on the attack from Iranian or Israeli officials. 
As we've noted before, Israel has attacked dozens of Iranian ships over the years. 
*This story is still developing… 
Tyler Durden
Tue, 04/06/2021 – 14:19