Chronic Shortages Of Children's Cancer Drugs Force US Hospitals To Work Together
The COVID pandemic has placed heavier strains on the American health-care system unlike any public health crisis seen since the Spanish flu 100 years ago. Hospital budgets have been strained after being forced to halt, or dramatically reduce, the number of elective surgeries, the biggest moneymakers for hospital budgets. While medical bills threaten to bankrupt thousands of individual Americans – some have suggested COVID-related medical bills could create a financial crisis as hospitals, paradoxically, face the threat of bankruptcy at a time when they are most badly needed.
It might seem hard to believe that hospitals could still be in such bad shape – financially speaking – after all the stimulus giveaways, including the $1.9 trillion stimulus package that will miraculously cut poverty in the US for 40% (for one year, until the flood of stimmies and benefits runs out, and the CDC is forced to lift its eviction moratorium). And as financial stresses lead to very real cutbacks in resources for patients, it looks like childhood cancer patients are being adversely effected in a way that could threaten the lives of many, as shortages of rare children's cancer drugs create new obstacles to treatment.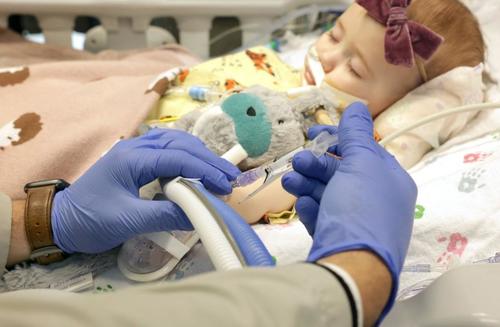 This is why, as Bloomberg reported Sunday, a group of hospital systems from around the country have turned to a Richmond-based company called Phlow Inc. that was initially financed by the Trump Administration. But now that the need for COVID treatments is subsiding, Eric Edwards, the company's co-founder and chief executive officer, tells Bloomberg that the facility is about to pivot to making rare children's cancer drugs, many of which are simply reformulations of more common adult cancer drugs, in an effort to fix one of the biggest problem's plaguing children's cancer treatment in the US.
To accomplish this, Phlow is partnering with the Children's Hospital Coalition, a group created by a network of independent US hospital systems with the goal of working together to end shortages of critical cancer drugs.
Once the the hospitals provide a list of drugs facing chronic supply shortages, Phlow will decide whether it will seek regulatory approval to produce some or all of the drugs itself or contract out the work, Edwards said. Then, the company will work through long-term purchasing agreements giving Phlow some financial stability that will allow the program to expand.
Drug shortages have been a problem no matter the age of patients for more than a decade, but the needs of children can be more precise than the needs of adults. Initially, the group expects to focus on pain medications, sedatives, nutrition management and blood pressure maintenance, before moving on to other drugs used in the treatment of children's cancers.
Presently, chronic shortages are forcing some children's hospitals to rework their medication delivery pipelines every few days as they're constantly searching for new sources.
In Washington, just four miles from the U.S. Capitol, a children's hospital is forced at times to call up nearby medical centers to see if they can spare the therapies needed for its young cancer patients.

In Chicago, a drug called epinephrine, which has multiple uses including maintaining blood pressure, can also fall into short supply, sometimes requiring the children's hospital there to entirely rework its medication delivery protocols every few days.

These occurrences aren't rare, hospital pharmacists say, and they carry a cost. Treatment in some cases may be delayed, and hospitals can too often find themselves recalibrating doses initially meant for adults, increasing the chance for errors. Now, 11 children's hospitals are forming a new coalition aimed at blunting the effects of unstable supplies, turning to a company that grew out of the Covid-19 pandemic.

"Our staff, our teams, they're always in a position of 'Okay, this week we've got to keep our eye out to make sure we have a supply," said Kurt Newman, chief executive officer of Children's National Hospital in Washington, D.C. "It's not like you can easily take the adult version of that medication and modify it for use in children. That takes a lot of work." The Children's Hospital Coalition officially kicked off its work on shortages last month. Early on, the group expects to focus on pain medications, sedatives, nutrition management and blood pressure maintenance.
As Bloomberg explains, this market-based solution could help address a shortcoming within the US pharmaceutical market.
One of the hurdles that makes drug shortages such a struggle for pediatric hospitals is the pharmaceutical market itself.

The financial incentives aren't strong enough to produce vast treatment options for children, which make up just a quarter of the US population. If a pediatric formulation from one manufacturer comes up short, that may be enough to put children's hospitals on alert.

Pediatric patients also rely heavily on injectable drugs, according to Jenny Elhadary, vice president of clinical services at the Ann & Robert H. Lurie Children's Hospital in Chicago. "Depending on age, oral pills are just not an option, and many aren't available in liquid form," she said.

Sterile injectable drugs account for 63% of drug shortages, according to the FDA.
And the problem with re-formulating adult drugs is that hospitals typically eat a loss on most of the product since only a small portion of the active ingredients are used.
Hospital budgets are also another casualty of drug shortages. When pharmacies at children's hospitals have to use small amounts of adult formulations to make drugs work for children, they rest of that vial they paid full price for might never get used.

"There are a lot of diseases or conditions that might be solvable with the right drug, but they're not being made because the current companies aren't doing it," said Newman, with Children's National. "Once we get through shortages, we want work with Phlow to tackle rare diseases."
However, even brief drug shortages can have life-threatening ramifications. A study published last year found that certain high-risk patients with a common form of childhood leukemia who couldn't obtain a childhood version of a common drug used in cancer treatment had a 50% higher risk of a poor outcome. "We talk about progress in childhood cancer, but could you imagine a decrease in outcome because we can't get a drug," said Douglas Hawkins, chairman of the Children's Oncology Group. "That's kind of amazing in 2021."
Right now, hospitals around the country can only secure enough of this drug to ensure supplies for between 5 to 7 days. Sometimes, the amount of reserves drops to just one to two days.
"We tend to have anywhere from five to seven days on hand of drugs at any given time," said Eric Balmir, vice president and chief pharmacy officer at Children's National. But with shortages, "that five to seven days can go down to two or one days, and when we get to that level, we are working furiously not to go down to zero."

The hospital has a task force that meets weekly on the issue, according to Balmir, and there are times, he said, when he dials up nearby hospitals to ask if they have a certain drug to spare. "Sort of like the neighbor saying 'I need a cup of sugar,'" Balmir said.

One chemotherapy currently in short supply is the only alternative available for about 10% of kids with the most common form of childhood cancer, acute lymphoblastic leukemia, said Douglas Hawkins, chairman of the Children's Oncology Group, a cancer research organization.
The mobilization effort required to combat COVID has impacted traditional pharmaceutical supply chains in ways that experts didn't anticipate. This likely won't be the last time we see hospitals working together to try and cut costs and increase their bargaining power to ensure they can get their hands on rare drugs without being forced to pay massive markups.
Tyler Durden
Tue, 04/06/2021 – 09:55