Comparing Stimmy 1, 2 And 3: Who Spent What And Where
The latest report on BofA aggregate (debt and credit) card data demonstrated what we previously said would be a striking base effect (as it compares the US econ shutdown period from March/April 2020), but it also showed a remarkable increase on a two-year comp basis.
According to BofA chief economist Michelle Meyer, not only did spending increase at a blistering 82% 1-year pace – as expected – but much more remarkably, it jumped by a whopping 20% 2-year rate for the 7-day period ending March 27th compared to the similar period in 2020 and 2019. Also notable: whereas previously the bulk of the upside spending game from debt card outlays, in recent weeks we have seen a solid increase in credit card spending as well as consumers turn more optimistic on their financial futures. This means that the period of credit card deleveraging that market much of 2020 is now officially over.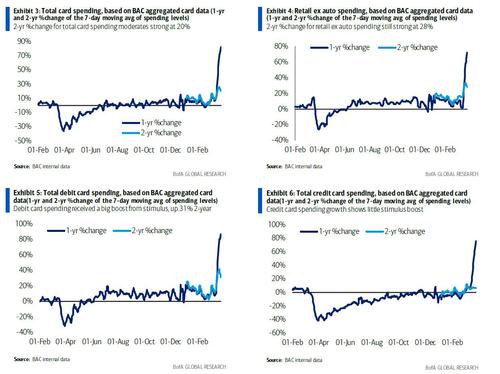 A detailed summary of spending by category shows a broad-based consumption frenzy.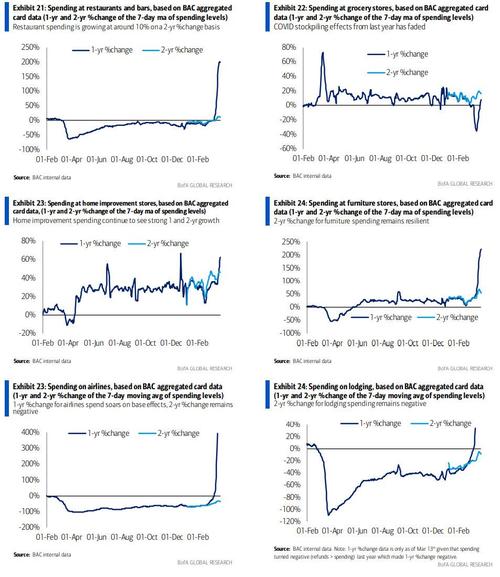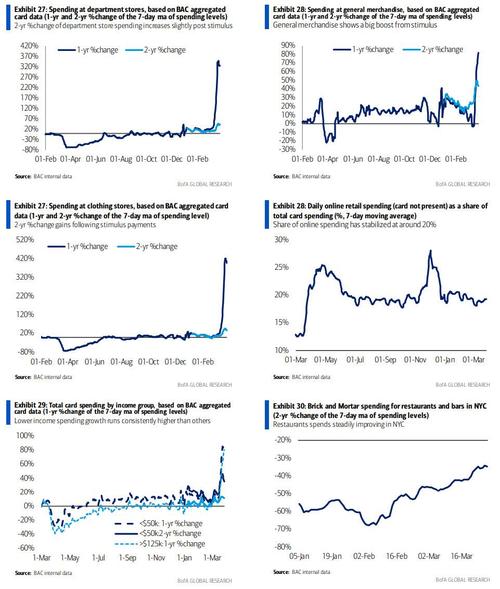 But why the surge on a 2-Year basis? One word: stimulus.
According to Meyer, total card spending over the 7-days ending March 27th was up 40% over a 2-year period for stimulus recipients vs. a 10% gain for non-recipients (defined as those who did not receive the stimulus payment through direct deposit on March 17). The bank found that peak spending was on Day 6 (following the distribution of payment).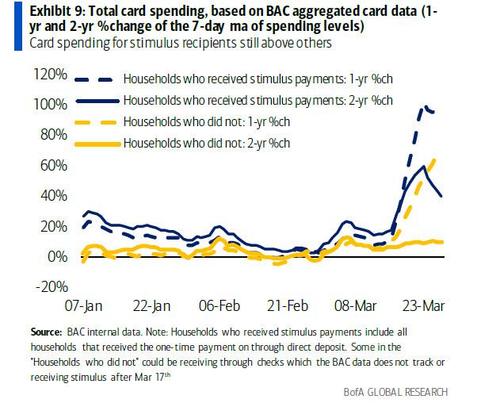 In her report, Meyer used aggregated BofA direct deposit data to isolate the cohort of households who received the stimulus payment on March 17th and track aggregated spending for this population. In the latest weekly report, the chief economist focused on the reaction to this round of stimulus vs. the prior two.
Stimulus 1, 2 or 3
Here's what the card data showed: Stimulus 1 showed that stimulus recipients spent 65% more than non-recipients at the peak vs. 30% for Stimulus 2 and 58% for Stimulus 3. Part of the reason there was a bigger relative boost with stimulus 1 was because the trend for non-recipients was weaker than for stimulus 2 or 3 given the state of the economy.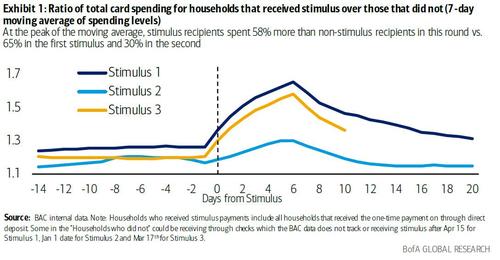 BofA also calculate the "marginal propensity to consume" (MPC): for the current stimulus, after 11 days, nearly 9% of the one-time payment was spent. This is comparable to the MPC from Stimulus 1 but below Stimulus 2 which presumably reflects the fact that Stimulus 2 was a much smaller dollar amount (Exhibit 11).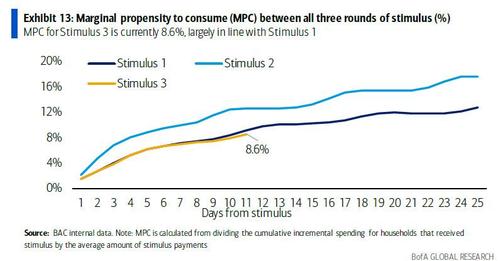 Below are several other snapshots of spending by stimmys recipients vs those who got nothing.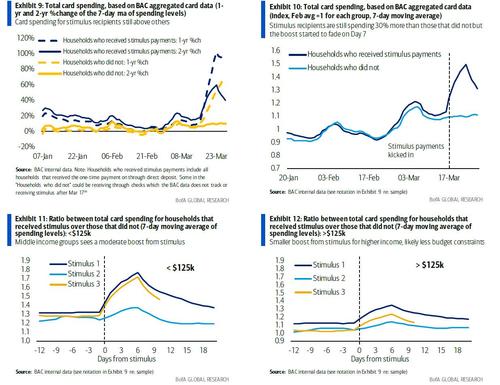 What did Americans buy? We already know that this time, stimmy recipients "invested" far less in stocks. So what did they spend on?
To answer that question, BofA compares the change in the 2-year growth rates in spending by major category pre- and post-stimulus (28 days prior to March 17th vs. March 17 to March 27th) for stimulus vs. non-stimulus recipients. This shows the biggest relative gains were in furniture sales with online electronics, clothing and dept stores in a close second.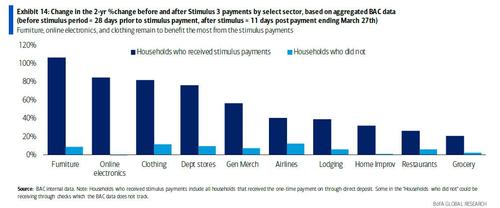 Airline spending also saw a relative boost while restaurant spending picked up modestly more than grocery. The relative improvement in clothing was more meaningful this time than the prior two, with stimulus recipients spending 2x than others. Home improvement had a bigger boost with Stimulus 1 while 2 and 3 are comparable (Exhibits 15-17).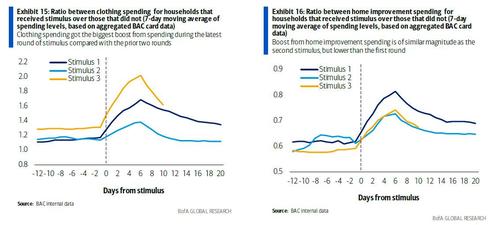 Tyler Durden
Mon, 04/05/2021 – 13:22