"Robotaxi Repo": New 13 Slide Deck Raises Critical Questions About Tesla's Lease Accounting
Among the most "controversial" claims that Elon Musk has made over the last couple of years, nothing quite tops the list like his bold predictions for Full Self Driving and his company's autonomous capabilities.
Those topics were debunked thoroughly in a video we wrote about days ago, which compared Musk's public statements on FSD – which he has been charging customers thousands for, for years – and the harsh reality of where the company's "feature" stands today. 
And just when you may have thought Musk's bold claims about autonomous driving were simply just a ruse to sell more vaporware, another interesting angle has emerged regarding some of Musk's famous claims about Robotaxis (which, of course, don't exist as promised) on Twitter last week. In a 13 slide post on www.thelastbearstanding.com last week, one analyst has asked the question of whether or not Musk's famous "appreciating assets" claims about Teslas could have been made in order to help alter the company's accounting treatment for leases that, in turn, resulted in a huge financial statement windfall for Tesla. +
The deck for introduces how accounting treatment changes were made right around the same time Tesla lost two CFOs, two CAOs and its General Counsel (this was also right before the company's stock went parabolic).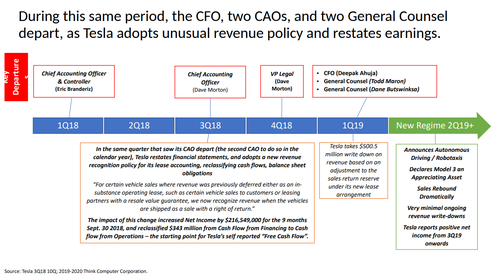 The deck then moves on to explain the company's former U.S. lease structure versus its new offshore lease accounting structure, where Tesla can book $50k of revenue when proceeds are received, versus the U.S. lease structure of not being able to recognize initial proceeds as revenue.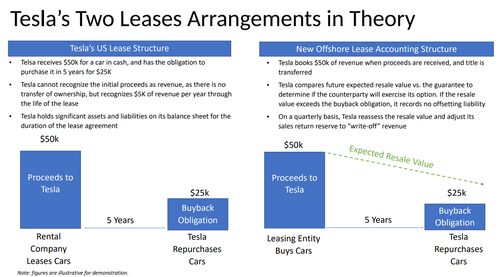 The deck then takes a closer look at the language behind the change, noting a new emphasis on expected future market value of the vehicles, which, if higher than the sale price, allows Tesla to prevent writing off lease revenue (that they would normally have to as the asset depreciated).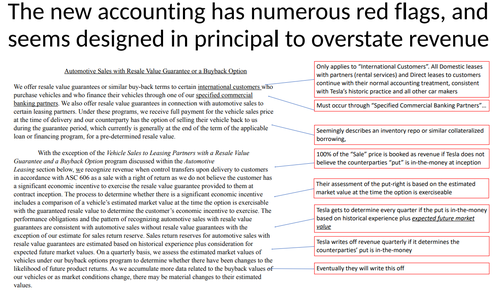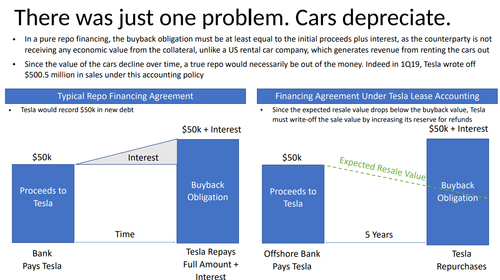 The deck then conveniently notes how, in Q2 2019, Elon Musk started declaring that the Model 3 was an "appreciating asset" based on potential future revenue from Full Self Driving, which – as a reminder – still doesn't exist as claimed.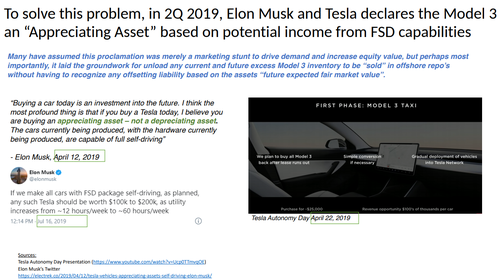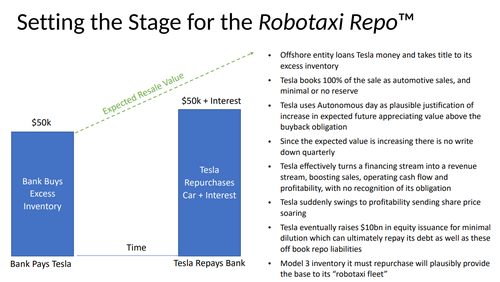 The deck then points out that Tesla's reporting for "other" international sales rose dramatically by Q4 2019, without any disclosure for the remarkable growth.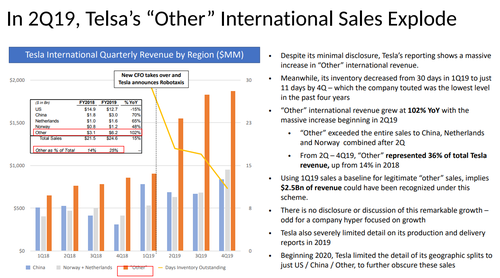 It also goes on to show how Tesla may have received a $2.5 billion benefit as a result of the Robotaxi Repo accounting, and lays out how dramatically the accounting shift has helped the company's key metrics, including deliveries, cash flow and net income.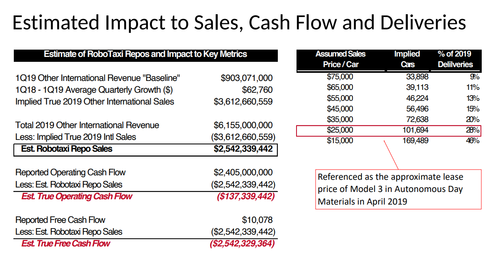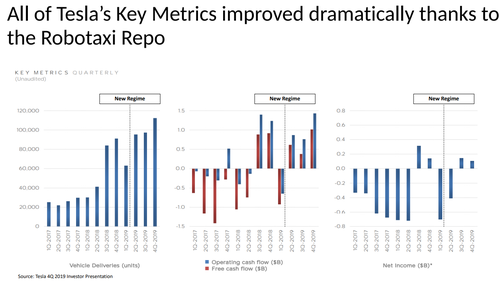 The deck then ends with a slide full of critical questions for Tesla, including asking why Fremont exported vehicles in 2019 and why did two CAOs, one CFO and legal staff leave concurrent with these accounting changes.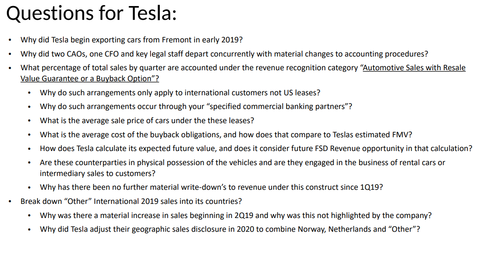 We'd love to know the answers, too.  
Tyler Durden
Sun, 04/04/2021 – 15:00