Deliveroo Debut Declared "Worst IPO In London's History", Sign Of Amsterdam's Growing Dominance
It's official: the Financial Times (citing an informal polling of anonymous bankers) has declared Deliveroo's botched London offering the "worst IPO in London's history."
As we reported yesterday, shares of the food-delivery competitor, which is struggling to grow market share at all costs in a battle for survival with Uber Eats and "Just Eat Takeaway", tanked in their public-markets debut, sliding 31% after pricing at the bottom of their range. Bankers immediately started complaining to reporters about being misled by Deliveroo's bankers, who had initially bragged that the company would price at the high end of the range. The debut, marketed as a major coup for the LSE and London markets, which are struggling for European supremacy with Euronext Amsterdam, more generally, has turned into a major embarrassment for the industry.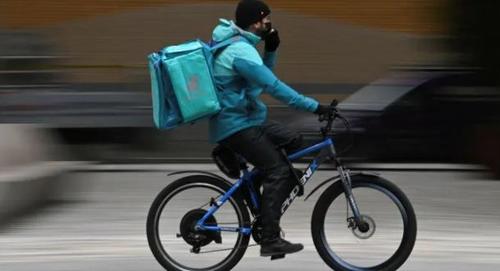 As carnage in Deliveroo shares continued Thursday, Bloomberg reported that Amsterdam remains the top European stock trading hub in Europe in March, stretching its dominance into a third straight month (as Brexit cut trading volume in London in half starting in January) . On average, 10.68 billion euros ($12.5 billion) of shares a day were traded on various Dutch venues in March, compared with 10.62 billion euros ($12.47 billion) in London, according to data from Cboe Europe.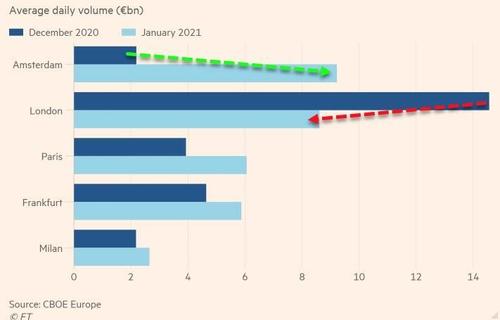 Source: FT
Now, bankers in the City are afraid the Deliveroo disaster will ward off any other companies that might have wanted to list in London, effectively sealing the industry's fate. And unsurprisingly, they're blaming pernicious short sellers, who "sabotaged" the listing (keep in mind, though the quotes are sourced to anonymous, it's likely this is coming from the people behind the deal).
The dramatic failure of London's biggest tech IPO is likely to damp hopes of the British government to attract other high-growth companies to list in the UK, ahead of growing competition from exchanges such as Amsterdam.

"I really hope that this doesn't shut down the IPO market" in London, said one person close to the listing, pointing to the long hangover from Funding Circle's dismal debut in 2018. "It's a big risk."

Several of Deliveroo's advisers, bankers and investors were quick to blame short sellers for the opening plunge. "At least three hedge funds have very actively gone short this morning, enabled by banks outside of the syndicate [of the IPO]," said one person directly working on the deal. "The opening move was very sharp."
To be sure, the FT also quoted critics of Deliveroo's bankers, Goldman Sachs and JPMorgan, for botching the roadshow and other pre-IPO necessities.
But others in the market raised questions about the company's roadshow and said Deliveroo had priced its offering badly, especially after encountering a rebellion from several large British fund managers against its dual-class share structure.

Deliveroo's advisers, who collected £49m in fees from the company and several million more from Deliveroo's selling shareholders, unnerved some buyers by refusing to identify the three "anchor investors" who they said were supporting the IPO.

These anchors were said to be based outside the UK, with one of them already a shareholder in Deliveroo through private investment ahead of the IPO, according to a person familiar with the situation.

"We were told throughout that the institutional book was four or five times covered but the maths of that seem doubtful now," said another person close to the process.

The roadshow ran into further trouble over the dual-class shares that gave Will Shu, chief executive, outsized voting rights, but which meant Deliveroo would not debut into the FTSE 100 index, depriving it of investment from passive tracker funds, and which triggered outrage from a several large British fund.
But rather than admitting any responsibility,  Deliveroo's bankers accused "non-syndicate" banks of deliberately sabotaging the IPO by facilitating massive short positions for a handful of hedge funds. According to the bankers' version of events, the evil hedge funds "rebelled" against Deliveroo's dual-class shareholder structure (which, as we pointed out yesterday, is extremely common in the US – one reason why tech firms from around the world typically choose to list in New York over London). Whether this is believable, or not, we will leave to our readers.
Of course, there are plenty of other reasons besides "ESG concerns" to be skeptical of Deliveroo's long-term future, as Bill Blain reminds us in Thursday's Morning Porridge.
* * *
The Deliveroo IPO ("Initial Primary Offering") at a valuation around…well anywhere from £5-£10 bln depending on whom you ask. Apparently attracting a new listing of such high calibre highlights the attractions of UK Finance Inc relative to Europe. It's being hailed as a major Tech listing for the UK. Really? If the definition of Tech is ordering a bike delivered pizza online, then it seems a pretty low threshold.

The 8-year-old Deliveroo is riding high (pardon the pun) as a result of the pandemic – not everyone took lockdown as an opportunity to learn new cooking skills. It's been taking over 6 million orders per month, distributing over £4.1 bln from food outlets in 2020, primarily in the UK, with Deliveroo taking up to 25% of that value in fees from the food providers.

It claims rising repeat orders and steadily growing "user engagement" providing "a recurring revenue stream that grows over time" as the company says. Yet, 8-year-old Deliveroo has consistently failed to post a yearly profit. (Note the deliberate emphasis on 8-year old.) That's apparently ok – its prioritising growth over returns. Although revenues in the Pandemic year rose 55%, it still lost £224 mm in the last quarter! It remains to be seen just how resilient user engagement will be once the economy reopens – especially after D-Day ("Drunk Day") April 12th when Pub Gardens reopen.

The whole proposition of Deliveroo and competitors like Just East is based around expectations the online food delivery market will continue to grow to infinity. Fantastic. What's not to like or even question about Gen XYZ and their inability to feed themselves… And apparently it's not about delivering them a pizza, but being able to collate data to target more junk food at them and lining them up for robotic drone deliveries tomorrow. (Always tomorrow.) Let's be brutally honest – the takeaway food sector has been around for years, and isn't really that disruptive. There was a time, a long, long time ago when we walked or drove to the Chinese or Fish & Chip shop. Now Deliveroo picks up food from its own dark "editions" kitchens flipping out Micky Dees' burgers or another brand's Peri-Peri Chickens.

Apparently Dark Kitchens – cheap and easy to run are a massive differentiator when it comes to the long-term returns from Deliveroo. The company has done "tech": "Frank" is its' algo based on predictive tech to "efficiently" distribute orders based on the position of restaurants, riders and customers.

Smart tech means they've been able to cut preparation time by 20% enabling everyone to get more delivery work, make more food, and get food faster. Wow.. (that's a very unimpressed wow btw.)

Moreover, Deliveroo is also a classic case-study of 2020s finance. Call something disruptive, and no matter how base and blasé its business model is, it will soon be worth billions. Well… perhaps it's time to step back and smell the coffee – from which ever high street shop you with it delivered from. Just apply some simple tests – The Blain DuB-De-PreP test. (Say it fast – sounds better.)

Deliveroo may be disruptive, but is it a Dull, Boring, Defensible, Predictable and Profitable stock? No. Its not. Are there any barriers to entry into Deliveroo's market? Nope. Anyone can deliver take-away food.

Mini-cab drivers have been doing it for years. Now there are a plethora of other firms including larger, better funded firms like Uber Eats, Door Dash, and big ad spending Just Eats. All of these firms compete for clients with deals and advertising spend.

All of them compete for delivery staff. All of them compete to get restaurants into their dark kitchens. In a market with room for maybe 2 competitors, Deliveroo is at number 3. Are the risks limited?

No, there are major extrinsic risk factors including health and safety, regulation, and market risk. In addition, delivery drivers are increasingly demanding better pay and conditions – which are being agreed by the courts. A business model founded on ripping off cheap Gig economy workers will fail when the courts mandate pension plans. To be fair, its delivery riders have been allocated stock.

Is Deliveroo in possession of a strong balance sheet? Can any firm which consistently fails to post profits be called strong? (Rhetorical question.) And just how dependent on capital markets conditions is the firm? If interest rates rise and the current tech bubble bursts then how is the firm going to attract the ongoing capital markets infusions it requires to cover up its long-term losses? Let's say it triples its market share, and keeps its cost base low and turns profitable next year? What stock multiple should it command? Something massive because it's such a secure business, or some low to reflect the obvious weakness? Nor can I get myself particularly enthused about Deliveroo's management.

If I was talking about a founder who fundamentally loved and understood the rich culinary history of the UK (in other words, someone focused entirely on delivering the best fish'n'chips or Curry), I might get it. But, Will Shu was an investment banker posted to London peeved at the lack of quality delivery options to Morgan Stanley's Canary Wharf offices.

Looking at the rest of the board I'm not getting that strong governance and passion vibe – I'm seeing a firm providing junk food hits to folk who should be eating healthy, meaning food delivery firms as probably a fail on the S of ESG – Unless they can show me 80% plus of their revenues are organic salads grown by transgender cooperatives..? All of which means… I'm not terribly excited about Deliveroo. But, having worked in Canary Wharf late into the evenings many times in the past, I can understand exactly why it might have seemed a good idea at the time.."
* * *
In summary: if delivering pizzas on bikes is what passes for a 'high-tech offering coup' in London, then maybe they should try and recruit WeWork and BowX to re-list WeWork in London.
Whether London can regain some of this lost ground will likely depend on whether the UK and EU can work out an agreement on financial regulation, which they're reportedly close to doing. Still, as those reports warned, things could fall apart.
Tyler Durden
Fri, 04/02/2021 – 05:15