Oil Tumbles As OPEC+ Leaks Begin
WTI has given up its overnight gains… again… after the now standard leak headlines "from an anonymous delegate" spooked the market.
Most members are reportedly giving support to a one-month extension, but the outcome isn't decided and delegates say there are some countries that would prefer to increase production.
"The situation is not clear yet," one delegate cautions.
This sent WTI back below $60 and into the red for the day…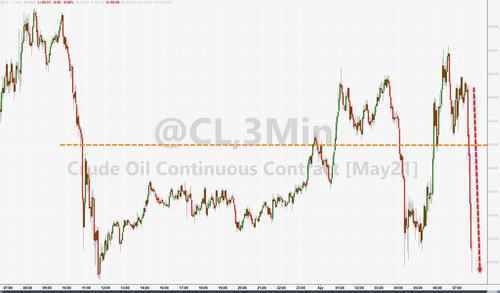 As Bloomberg's Julian Lee notes, in theory, the group can make three more increases of 500,000 barrels a day before it has restored the full 2 million barrels that it originally planned to return in January. But Russia and Kazakhstan have already had most of their shares of that increase. Russia's target can only increase by another 115,000 barrels a day and Kazakhstan's by just 18,000 barrels until they've had their full shares of the original increase of 2 million barrels a day.
That's going to mean they'll soon have to watch others getting increases they don't share in, or that the others will have to agree to lift Russia and Kazakhstan's shares of the group's collective output – something that's always been difficult for OPEC in the past.
Tyler Durden
Thu, 04/01/2021 – 10:48