Micron Soars On Chip Shortage "Perfect Storm"
In a time when pervasive chip and semiconductor shortages are snarling supply chains across the globe, it is hardly a surprise that chip giant Micron shares surged more than 5% in premarket trading, after the chipmaker gave a bullish sales and earnings forecast, with analysts positive on pricing trends for dynamic random access memory (DRAM), while highlighting improving demand from enterprise customers.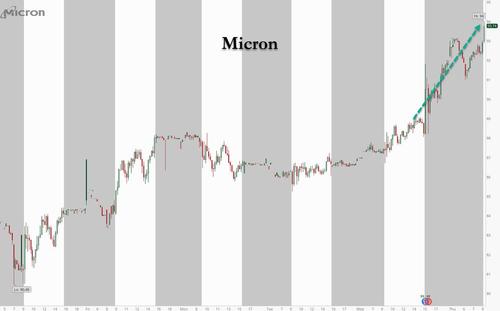 Shares in chip stocks peers also climbed in premarket trading, with Applied Materials up 2.6%, Nvidia gaining 1.5%, and Intel +1.2%. Separately, the WSJ reported that Micron and Western Digital are each exploring a potential deal for Japan's Kioxia.
Below, courtesy of Bloomberg, is a snapshot of what analysts said about Micron's stellar results:
RBC Capital Markets (outperform, raises PT to $120 from $110)
Micron's results are "solid across the board" and news of potential consolidation of NAND is an added bonus
While revenue midpoint guidance was on top of RBC's expectations for the May quarter, profits are expanding at a faster rate
Micron continues to see "robust" demand from hyperscale companies, and enterprise demand looks to be improving
Cowen (outperform, raises PT to $105 from $100)
Says it is "hard to argue this was anything but a watershed quarter," noting better results, better guidance and immediate accretion from halting XPoint
Prudent capacity planning is now paying off, and is evident from improved pricing and margins
Evercore (outperform, PT $135)
Severe shortages and disciplined capex is driving a "perfect storm"
Says the DRAM market is in "severe" shortage, pricing is increasing rapidly, and Micron's management expects further tightening through 2021
Reflecting on current spending levels on DRAM capex, it's "hard to see issues head," especially considering lean inventories at Micron's customers as well as equipment slots that are largely full until 1H22
Piper Sandler (neutral, PT $90)
Micron saw strength across the board, and it appears demand has outpaced supply in the DRAM market, driving improving pricing trends
Notes data center, 5G handsets, automotive demand all remaining strong, with enterprise demand improving
Believes strength is likely to persist through much of calendar 2021 before potentially subsiding to more normal trends in calendar 2022
Tyler Durden
Thu, 04/01/2021 – 09:34